Wild Finish has Carpenter Fight Back to 5th Saturday in Iowa Corn 300
Wild Finish has Carpenter Fight Back to 5th Saturday in Iowa Corn 300
Tom Blattler
Ed Carpenter Racing
July 13, 2014

Microsoft Word version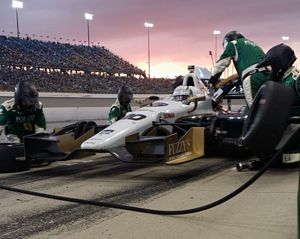 ECR/Fuzzy's Crew was lightning quick Saturday at Iowa.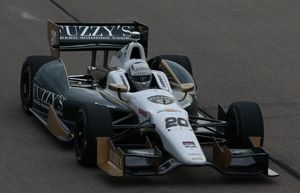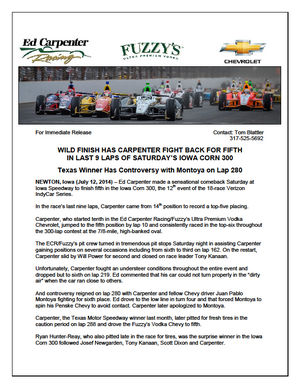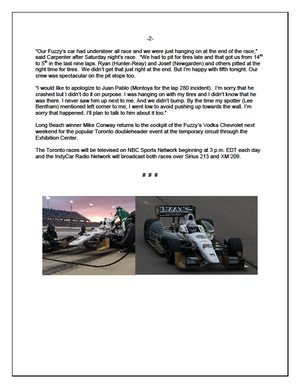 July 13th 2014 - NEWTON, Iowa – Ed Carpenter made a sensational comeback Saturday at Iowa Speedway to finish fifth in the Iowa Corn 300, the 12th event of the 18-race Verizon IndyCar Series.
In the race's last nine laps, Carpenter came from 14th position to record a top-five placing.
Carpenter, who started tenth in the Ed Carpenter Racing/Fuzzy's Ultra Premium Vodka Chevrolet, jumped to the fifth position by lap 10 and consistently raced in the top-six throughout the 300-lap contest at the 7/8-mile, high-banked oval.
The ECR/Fuzzy's pit crew turned in tremendous pit stops Saturday night in assisting Carpenter gaining positions on several occasions including from sixth to third on lap 162. On the restart, Carpenter slid by Will Power for second and closed on race leader Tony Kanaan.
Unfortunately, Carpenter fought an understeer conditions throughout the entire event and dropped but to sixth on lap 219. Ed commented that his car could not turn properly in the "dirty air" when the car ran close to others.
And controversy reigned on lap 280 with Carpenter and fellow Chevy driver Juan Pablo Montoya fighting for sixth place. Ed drove to the low line in turn four and that forced Montoya to spin his Penske Chevy to avoid contact. Carpenter later apologized to Montoya.
Carpenter, the Texas Motor Speedway winner last month, later pitted for fresh tires in the caution period on lap 288 and drove the Fuzzy's Vodka Chevy to fifth. Ryan Hunter-Reay, who also pitted late in the race for tires, was the surprise winner in the Iowa Corn 300 followed Josef Newgarden, Tony Kanaan, Scott Dixon and Carpenter.
"Our Fuzzy's car had understeer all race and we were just hanging on at the end of the race," said Carpenter after Saturday night's race. "We had to pit for tires late and that got us from 14th to 5th in the last nine laps. Ryan (Hunter-Reay) and Josef (Newgarden) and others pitted at the right time for tires. We didn't get that just right at the end. But I'm happy with fifth tonight. Our crew was spectacular on the pit stops too.
"I would like to apologize to Juan Pablo (Montoya for the lap 280 incident). I'm sorry that he crashed but I didn't do it on purpose. I was hanging on with my tires and I didn't know that he was there. I never saw him up next to me. And we didn't bump. By the time my spotter (Lee Bentham) mentioned left corner to me, I went low to avoid pushing up towards the wall. I'm sorry that happened. I'll plan to talk to him about it too."
Long Beach winner Mike Conway returns to the cockpit of the Fuzzy's Vodka Chevrolet next weekend for the popular Toronto doubleheader event at the temporary circuit through the Exhibition Center.
The Toronto races will be televised on NBC Sports Network beginning at 3 p.m. EDT each day and the IndyCar Radio Network will broadcast both races over Sirius 213 and XM 209.
Connect with The Crittenden Automotive Library