Rain Storms Delay Toronto Race 1 Saturday, Both Features Sunday
Rain Storms Delay Toronto Race 1 Saturday, Both Features Sunday
Tom Blattler
Ed Carpenter Racing
July 19, 2014

Microsoft Word version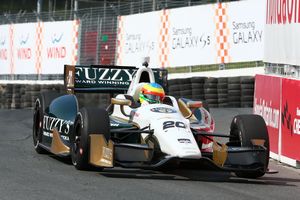 Conway starts 16th and 9th Sunday at Toronto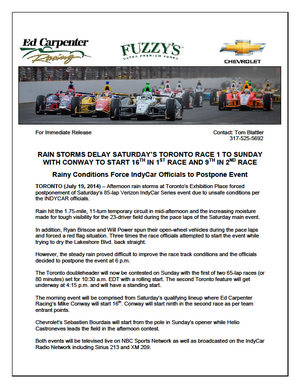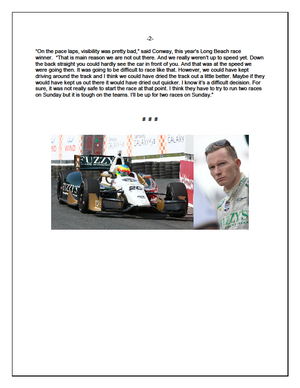 July 19th 2014 - TORONTO – Afternoon rain storms at Toronto's Exhibition Place forced postponement of Saturday's 85-lap Verizon IndyCar Series event due to unsafe conditions per the INDYCAR officials.
Rain hit the 1.75-mile, 11-turn temporary circuit in mid-afternoon and the increasing moisture made for tough visibility for the 23-driver field during the pace laps of the Saturday main event.
In addition, Ryan Briscoe and Will Power spun their open-wheel vehicles during the pace laps and forced a red flag situation. Three times the race officials attempted to start the event while trying to dry the Lakeshore Blvd. back straight.
However, the steady rain proved difficult to improve the race track conditions and the officials decided to postpone the event at 6 p.m.
The Toronto doubleheader will now be contested on Sunday with the first of two 65-lap races (or 80 minutes) set for 10:30 a.m. EDT with a rolling start. The second Toronto feature will get underway at 4:15 p.m. and will have a standing start.
The morning event will be comprised from Saturday's qualifying lineup where Ed Carpenter Racing's Mike Conway will start 16th. Conway will start ninth in the second race as per team entrant points.
Chevrolet's Sebastien Bourdais will start from the pole in Sunday's opener while Helio Castroneves leads the field in the afternoon contest.
Both events will be televised live on NBC Sports Network as well as broadcasted on the IndyCar Radio Network including Sirius 213 and XM 209.
"On the pace laps, visibility was pretty bad," said Conway, this year's Long Beach race winner. "That is main reason we are not out there. And we really weren't up to speed yet. Down the back straight you could hardly see the car in front of you. And that was at the speed we were going then. It was going to be difficult to race like that. However, we could have kept driving around the track and I think we could have dried the track out a little better. Maybe if they would have kept us out there it would have dried out quicker. I know it's a difficult decision. For sure, it was not really safe to start the race at that point. I think they have to try to run two races on Sunday but it is tough on the teams. I'll be up for two races on Sunday."
Connect with The Crittenden Automotive Library