Conway Looks For Another 2014 Upset Sunday at Sonoma
Conway Looks For Another 2014 Upset Sunday at Sonoma
Tom Blattler
Ed Carpenter Racing
August 19, 2014

Microsoft Word version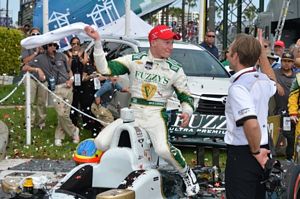 Conway has stunned the IndyCar Series twice in 2014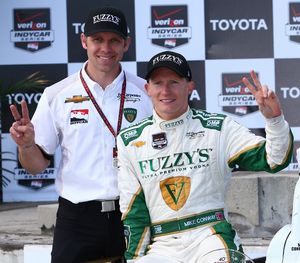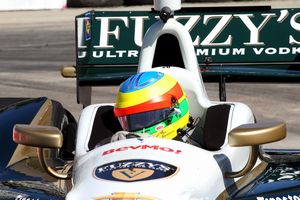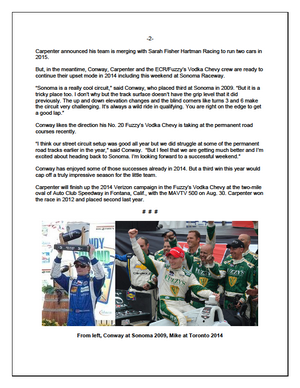 August 19th 2014 - SONOMA, Calif. -- Mike Conway will play the "David" role against the big Verizon IndyCar Series "Goliaths" again this weekend at Sonoma Raceway in the annual GoPro Grand Prix of Sonoma.
Conway, the 31-year-old British road racing star, has played that "little guy" role last year when he won in the streets of Detroit and he continued that performance in 2014 when he joined Ed Carpenter Racing. Conway made the decision to only drive IndyCars in road races after his two horrific crashes (2010 and 2012) in the Indianapolis 500. And Mike has made the most of that call.
With team owner/driver Ed Carpenter decided to race only on the oval tracks this year, he hired Conway to handle the No. 20 Fuzzy's Ultra Premium Vodka Chevrolet in the street and road circuits. And the small one-car effort has produced three victories in the first 16 races. Conway scored wins in the streets at Long Beach in April and at Toronto in July. In between, Carpenter won the Indy 500 pole in May and the Texas Motor Speedway event in June.
ECR's three wins in 2014 marks the first time since 2004 that a single-car operation has accomplished that feat. So fighting the big Ganassi, Penske and Andretti teams is tough.
"I can'™t tell you how much this one-car team has opened up some eyes this year," said Conway, a four-time race winner. "This team is just as professional as the big teams and they have proven it. I was excited to come with Ed's team and drive the roads and streets. And now I know why with the results. Ed has put together a strong team."
Carpenter announced his team is merging with Sarah Fisher Hartman Racing to run two cars in 2015.
But, in the meantime, Conway, Carpenter and the ECR/Fuzzy's Vodka Chevy crew are ready to continue their upset mode in 2014 including this weekend at Sonoma Raceway.
"Sonoma is a really cool circuit," said Conway, who placed third at Sonoma in 2009. "But it is a tricky place too. I don't why but the track surface doesn't have the grip level that it did previously. The up and down elevation changes and the blind corners like turns 3 and 6 make the circuit very challenging. It's always a wild ride in qualifying. You are right on the edge to get a good lap."
Conway likes the direction his No. 20 Fuzzy's Vodka Chevy is taking at the permanent road courses recently.
"I think our street circuit setup was good all year but we did struggle at some of the permanent road tracks earlier in the year," said Conway. "But I feel that we are getting much better and I'm excited about heading back to Sonoma. I'm looking forward to a successful weekend."
Conway has enjoyed some of those successes already in 2014. But a third win this year would cap off a truly impressive season for the little team.
Carpenter will finish up the 2014 Verizon campaign in the Fuzzy's Vodka Chevy at the two-mile oval of Auto Club Speedway in Fontana, Calif., with the MAVTV 500 on Aug. 30. Carpenter won the race in 2012 and placed second last year.
Connect with The Crittenden Automotive Library