FOR IMMEDIATE RELEASE:
Maggio Motorsports Plans For an Even Bigger '12 PSCA Season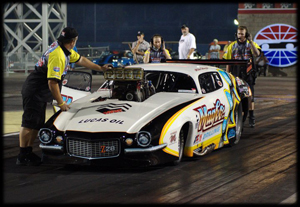 Contact:
Brandon W. Mudd
636.219.9676
PR@HighSideMedia.com

LAS VEGAS --
It's hard for a race team to have higher expectations for the 2012 Pacific Street Car Association series when the '11 season ended with them hoisting the PSCA Pro Street championship, but that's exactly what Maggio Motorsports is planning. A year that saw the San Dimas, Calif.-based team earn a Wally by winning the WCOPMA/NHRA Division 7 drags at Infineon Speedway in Somona, Calif. by setting a new ET record (5.849 seconds) as well as the speed record record (251.91 mph), set PSCA records for ET and speed twice (currently 5.973 seconds and 245.54 mph, respectively), earn the 2011 Super Chevy championship at The Strip at Las Vegas Motor Speedway, and be featured on the cover of Drag Illustrated in July is a season to remember.
"Looking back on the Maggio Motorsports 2011 season is a true pleasure," Maggio Motorsports Owner Mike Maggio said. "We have so much to be thankful for and proud of."
But the Maggios plan on making new memories starting Feb. 17-19 at the PSCA opener at The Strip.
Every good driver has a great crew behind them and Maggio Motorsports is no different. Kirk Kuhns, Martin Charles, Wade Maggio, Hugo Sanchez, Josh Rowley, Bill Kuhns, Renee Parker, Bob Spriggs , Roger Dinsmore, Gavin Watt and Ryan Rabe make up the core of this championship team and Mike knows there would be no glory in the Winner's Circle without the hard work and dedication put forth by his dedicated team.
"Their personal dedication to the team and constant hard work has been instrumental in making this season one for the record books," Maggio said. "I truly enjoy working with each and every one of them. Each one has contributed their individual talents to make one amazing team.
"I want to thank their families as well, because without their support and sacrifice, our team would suffer and they all deserve to be recognized as honorary crew members of Maggio Motorsports."
The Maggio Motorsports' '70 Camaro, built by Chris Duncan Race Cars with a BAE motor, is sponsored by Magco Drilling, Inc., Lucas Oil, Hoosier Tire, Crower Clutches, JE Pistons, Local Speed Shop, Mait, MC Automotive, Ice Chest Toppers, EPPS, MCM Enterprises, Inc., and Outlaw Studio Equipment.
In addition to their crew and sponsors, Maggio Motorsports also wants to thank PSCA President Mel Roth, the Las Vegas Motor Speedway Fire and Rescue, their families, their competition, and most importantly, the best racing fans in the world. "We appreciate you more than you could ever know," Maggio said. "We love hearing from you, especially your cheers from the across the track."
For more information on Maggio Motorsports, visit them on the Webat MaggioMotorsports.com, on their official page on Facebook, and on Twitter at Twitter.com/MaggioMtrsports.
Fans of the Pacific Street Car Association can find updates and photos of PSCA racers and events by checking out PSCARacing.com, Twitter.com/PSCARacing, and Facebook.com/PSCARacing. Videos of PSCA drag racing action can be found at YouTube.com/PSCARacing.
Racers can visit the PSCA's official page on
Facebook
to find the 2012 class rules.
Get PSCA Stuff:
Represent the Pacific Street Car Association and West Coast drag racing by visiting our online store! The official PSCA store has everything for fans and racers of all ages, including hats, shirts, DVDs, and more at huge discounts. Click
HERE
to start shopping!
-PSCA-
About the Pacific Street Car Association:
Entering into its 13
th
season, the Pacific Street Car Association, based in Las Vegas, has been a staple of West Coast drag racing since its inception. With seven heads-up classes, four bracket classes, and three index classes, the PSCA provides some of the best racing in the country for both fans and racers. The PSCA season is capped off by its Street Car Super Nationals at The Strip at Las Vegas Motor Speedway, now in its eighth year.
About HighSide Media
Founded in 2007, HighSide Media has represented some of the top drivers, teams, facilities, sponsors, and sanctions in American motorsports. HighSide Media provides public and media relations for racers at every level with tailor-made programs for every budget. Pass YOUR Competition on the HighSide.