FOR IMMEDIATE RELEASE:
PSCA Street Car Super Nats Returns to Gateway May 2015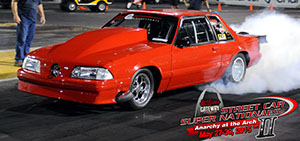 Contact:
Brandon W. Mudd
BWMudd@gmail.com
636-219-9676
LAS VEGAS –
On the heels of a record-shattering race that has been the bread and butter for the Pacific Street Car Association's Street Car Super Nationals event, PSCA President Mel Roth and Gateway Motorsports Park Executive Vice President and General Manager Chris Blair have announced "Anarchy at the Arch" is returning to the facility
May 28-30, 2015
.
After a tug-of-war all weekend for the doorslammer ET record, Q80 Racing's Turky Al Zafiri left the St. Louis-area track with the honors after laying down a 5.462-second pass. The runner-up, Frankie "The Madman" Taylor, had also held the record a couple times over the weekend and, based on his second-place run in the .40s, he is still part of the quickest side-by-side doorslammer drag race in motorsports history.
Al Zafiri also earned the record for fastest doorslammer pass with a lap of 272.82 mph.
Thanks to media outlets such as BangShift.com, DragIllustrated.com, CompetitionPlus.com, DragZine.com, and DragRacingOnline.com, fans all over the world were able to experience the amazing event. Unfortunately, the race fell on the hottest week of summer in 2014 for the St. Louis area. The new date in May is expected to remove that problem.
"This year's event faced tremendous odds and still proved to be a historic event," said Blair. "We were faced with rain, extreme heat and even a purse battle with another organization who was afraid of this event. Our event delivered with quality and excitement that we could have never imagined. We produced the event that others only dream of hosting.
"Each run improved on the previous round and, just when you thought it couldn't get any better it did. The quickest and fastest side-by-side run in the history of doorslammer racing was the exclamation point to top it all off. It was like we were watching a scene from a movie."
"Going into any new facility, there are concerns," Roth said. "Despite very challenging weather, Gateway's track crew set up a racing surface that is easily one of the best I've ever seen. With temps and humidity that high and for our drivers to go that fast, it's a testament to the team Chris Blair and Gateway have put together.
"We can't wait for May to get here for 'Anarchy at the Arch II.'"
In addition to an even bigger purse and the potential for more record-shattering passes, ProTrac's David Cook and NHRA Chief Starter Mark Lyle, both of whom were in St. Louis for this event, are scheduled to return for next year's race.
The date change came about only a few days prior to last weekend's event, according to Blair. "Just a couple of days prior to our event we were treated with a gift. Another group elected not to renew their May date and it opened the door for us to move the Street Car Super Nationals to 28-30, 2015. Fans in this area will now have an amazing show in much better conditions."
For more information on SCSN and its races, visit them at StreetCarSuperNationals.com or follow them on social media at Facebook.com/StreetCarSuperNationals or on Twitter at @PSCARacing. For Anarchy at the Arch merchandise, click
HERE
.
The next SCSN event on the schedule is the season-ending Street Car Super Nationals X scheduled for November 20-23 at The Strip at Las Vegas Motor Speedway. For more information on the PSCA, visit them on the web at PSCARacing.com or at their page on Facebook at Facebook.com/PSCARacing.
-HSM-
About the Pacific Street Car Association:
In its 15th season, the Pacific Street Car Association, based in Las Vegas, has been a staple of West Coast drag racing since its inception. With six heads-up classes, four bracket classes, and two index classes, the PSCA provides some of the best racing in the country for both fans and racers. The PSCA season is capped off by its Street Car Super Nationals at The Strip at Las Vegas Motor Speedway, now in its tenth year.
About HighSide Media:
Founded in 2007, HighSide Media has represented some of the top drivers, teams, facilities, sponsors, and sanctions in American motorsports. HighSide Media provides public and media relations for racers at every level with tailor-made programs for every budget. Pass YOUR Competition on the HighSide.