FOR IMMEDIATE RELEASE:
Kandy Girl Angie Smith Will Suit Up for Remainder of 2014 NHRA Season for Kandy Magazine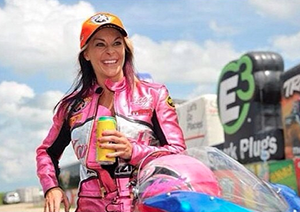 Contact:
Kandy Magazine
Steve Scala
Bill Nychay
310-425-3452
racing@kandymag.com
Los Angeles, Calif., July 31
st
, 2014 — Matt Smith Racing and Kandy Magazine officially announced today that they reached an agreement for Kandy Magazine to sponsor Angie Smith for the remainder of the 2014 NHRA Mello Yello Pro Stock Motorcycle Series. Kandy's sponsorship was scheduled to conclude with the US Nationals held in Indianapolis, Aug. 27
th
to Sept. 1
st
.
"Kandy informed me at Sonoma that they were interested in extending my sponsorship through the end of the season. I am ecstatic about this news. It's an honor to represent the number one downloaded Men's magazine app on iTunes. This season has already been a dream come true for me and my dream gets to continue through the end of the season. My goal is to make the Countdown to the Championship and give all these boys a run for their money. The partnership MSR has with Kandy could not be better or more fitting and I'm so thankful for everything," said Angie.
"2014 has been an amazing year for Angie Smith and Kandy magazine. Angie secured her first Wally in June when she defeated her husband Matt Smith in the finals in Epping, New Hampshire. She has maintained the momentum from that win throughout the 2014 summer with 8 round wins. She is in prime position, sitting 9
th
in points, to qualify for the Countdown to the Championship and compete for the world title that her husband Matt currently holds," recounts Kandy Magazine President Ron Kuchler. "For us, to be so fortunate, to have our brand represented by a woman such as Angie, who symbolizes so many of the qualities that we hope our young daughters possess when they become women, is a stroke of luck. For three years, Kandy has been sharing with men and women around the world the Sweeter Side of Life and through our sponsorship of the NHRA's sweetest competitor Kandy girl Angie Smith for the remainder of 2014, and hopefully beyond, we look forward to continue sharing with NHRA race fans the sweetness," Mr. Kuchler goes on to say.
About Kandy Magazine
For eight consecutive weeks, dating back to June 8
th
, 2014, the Kandy magazine app has been ranked #1 in the world on iTunes. The management of Kandy has been involved in motorsports marketing since 1997. The team has successfully married corporate brands, rock stars, and icons with top NHRA race teams. Now, the team is applying 17 years of motorsports marketing experience to one of its favorite race teams, Matt Smith Racing and Angie Smith.