News and Events: Steam, Electric and Gas Automobile Authorities Honored
News and Events: Steam, Electric and Gas Automobile Authorities Honored
F.B. Tucker
Antique Automobile
March-April 1972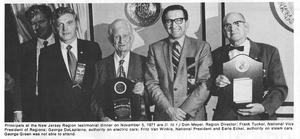 Principals at the New Jersey Region testimonial dinner on November 5, 1971 are (l. to r.) Don Meyer, Region Director; Frank Tucker, National Vice President of Regions; George DeLaplaine, authority on electric cars; Fritz Van Winkle, National President and Earle Eckel, authority on steam cars. George Green was not able to attend.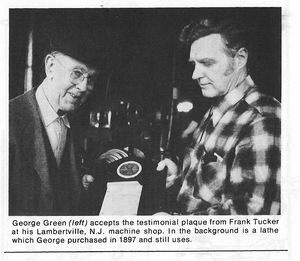 George Green (left) accepts the testimonial plaque from Frank Tucker at his Lambertville, N.J. machine shop. In the background is a lathe which George purchased in 1897 and still uses.
The New Jersey Region recently honored three of its prominent members at a testimonial dinner: Earle S. Eckel, Sr. for his work on steam cars; George N. DeLaplaine on electric and George C. Green on gasoline, specifically the Curved Dash Oldsmobile.
Earle Eckel, in addition to being one of the founding members of the AACA, was a professional motorcycle racer in the early teens, owned and operated the first Indian Motorcycle Agency, as well as Overland, Cadillac and Stanley Steamer agencies, in Northwest New Jersey, prior to World War I. Earle also founded the Easton, Pennsylvania airport; flew and obtained the first transport autogyro pilot's license issued in this country. He was AACA's first Vice President, in 1935: Steam Editor for ANTIQUE AUTOMOBILE for ten years and helped organize the Antique Steam Automobile Club. His knowledge of steam vehicles is legendary.
George DeLaplaine has been in the electrical business for 55 years and in his early years worked for and with Marconi, Lee Deforest and Thomas Edison. His Electric Museum, opened in 1954 and located in New Brunswick, N.J. is one of the most complete in the country. George has restored more than fifteen electrics and is sought after as "the" authority on electric vehicles.
George Green, in 1899, took over the operation of his father's blacksmith shop at the age of 14 and immediately began installing equipment for the repair of machinery, including automobiles. He still owns the 1904 Curved Dash Olds he purchased in 1907 and has driven it across the U.S.A. twice, in 1936 and 1946, accompanied by his wife, Jenny. A George Green restoration is the most desired Curved Dash Olds restoration available.
National President Fritz Van Winkle spoke briefly on the contributions of these three men to our hobby. Appropriate plaques were presented to Messrs. Eckel, DeLaplaine and Green and this was followed by a film slide presentation covering 15 years of their participation in the New Jersey Region and the New Jersey Pioneers Chapter.
F.B. Tucker
Connect with The Crittenden Automotive Library