Mason Mingus; Win-Tron Racing Ready To Roar At Bristol Motor Speedway
Mason Mingus; Win-Tron Racing Ready To Roar At Bristol Motor Speedway
Chris Knight
Knight Motorsports Management
Win-Tron Racing
August 19, 2014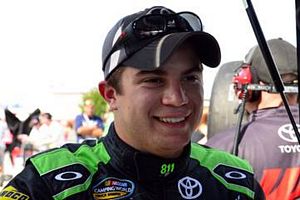 Mason Mingus, driver of the No. 35 Call 811 Before You Dig Toyota Tundra in the NASCAR Camping World Truck Series (NCWTS) for Win-Tron Racing.
BRISTOL, Tennessee (August 19, 2014)
- - Win-Tron Racing development driver Mason Mingus returns to his norm this Wednesday night at Bristol (Tenn.) Motor Speedway for the running of the UNOH 200.
Short track racing.
While the "World's Fastest Half-Mile" is anything but the norm, Mason Mingus, who pilots the No. 35 Call 811 Before You Dig Toyota Tundra, has an opportunity to shine under the lights in one of the most anticipated Truck Series events of the season.
And even though the 19-year old Sunoco Rookie of the Year candidate has never tackled one of the most demanding short track races on the circuit, Mingus is embracing the challenge ahead of him and hoping for second top-10 finish of the season in the mid-week showdown.
"I am really looking forward to Bristol," said Mingus. "It has been number one on my list of tracks I've wanted to race on for a long, long time. Now I'll get to accomplish that in our No. 35 Call 811 Before You Dig Toyota Tundra. Traditionally, my favorite race tracks are high-banked half mile tracks, so I'm looking for Bristol to be a really good run for myself and Win-Tron Racing."
With no previously laps turned at the 0.533-mile concrete oval, Mingus has turned to the highly realistic iRacing system to learn some of the track's feature and characteristics – hoping to have some sort of edge when practice rolls out Wednesday morning.
"I know that nothing beats the real thing, but iRacing helps a little," Mingus added. "It's amazing how real iRacing makes everything feel. You can't experience the sensation that you would from sitting in the truck, but I think just turning some laps on the computer is better than nothing.
"Everyone knows when it comes down to short track racing, that track position is everything and Bristol is no exception. We need to get our truck handling well so we can get off the corners good and lay down the power going into the corners. There's going to be some tight racing with fast speeds and who knows what else, but we've been moving in the right direction over the last couple of races and we need to do everything in our power to keep that happening."
Last weekend at Michigan International Speedway, Mingus turned in a respectable 16th place position, delivering his eighth top-20 finish of 2014. But as the second-half of the NASCAR Camping World Truck Series shifts into high gear, the Brentwood, Tennessee native, Mingus along with his Mooresville, North Carolina-based team, hope to apply what they've learned and start racking up performances they know they're capable of.
"We know we can finish inside the top-10 on a constant basis," sounded Mingus. ""That's not an easy task, because there are a lot of good teams in the Truck Series. We've learned a lot over the past seven months and know that as we battle into the core of this summer stretch and with a little luck we can make a name for ourselves. We just need to do our part with fast trucks and no mistakes."
Nate Thiesse, co-truck owner of Win-Tron Racing offered his thoughts entering Bristol.
"Mason is a short track ace," he said. "We really think that even though he is a rookie, he'll adapt to Bristol quickly. It's not an easy place for a rookie by any means, but with Mason's determination we think we can earn a top-10 finish on Wednesday night. We just need a little luck to make it a reality."
Entering Bristol, Mingus sits 12th in the championship standings, 66 markers from 10th place held by Jeb Burton. Mingus unofficially sits second in the Sunoco rookie of the year standings, behind current leader Ben Kennedy.
The UNOH 200 is the 13th of 22 races on the 2014 NASCAR Camping World Truck Series schedule. The event will be televised live on FOX Sports 1, MRN Radio and SiriusXM Satellite Radio Channel 90 on Wednesday night, August 20 beginning at 8:30 p.m. The green flag is scheduled to drop at approximately 8:46 p.m. All times Eastern.
Learn about Call 811 Before You Dig and what it can do for you by connecting to call811.com.
For more on Mason Mingus, please visit MasonMingusRacing.com.
Follow Win-Tron Racing on Twitter @WinTronRacing or log on to Win-TronRacing.com.
Mingus tweets too. Follow him on Twitter @Mason_Mingus.
About Win-Tron Racing:
Located in Mooresville, North Carolina, Win-Tron Racing (Win-TronRacing.com / @WinTronRacing) is the home of one the most potent ARCA Racing Series presented by Menards single-car operations. Owned by former racers Kevin Cywinski and Nate Thiesse, the team since has acquired the assets of County Joe Racing, becoming a favorable fixture on the circuit. Since Win-Tron Racing's inception in 2007, the team has hosted a variety of drivers including leading drivers James Buescher, Blake Bjorklund, Justin Marks, Matt Merrell and Brandon McReynolds to their first career ARCA victories. In 2014, the team will begin its eighth year of competition with a full-time presence in the ARCA Racing Series presented by Menards and the NASCAR Camping World Truck Series.
###
Connect with The Crittenden Automotive Library