FOR IMMEDIATE RELEASE:
Al Zafiri SCSN X Outlaw Pro Mod P1 With Near Record-Breaking Pass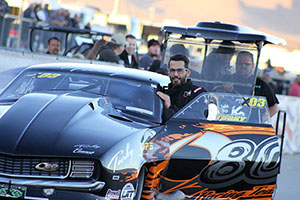 Contact:
Brandon W. Mudd
BWMudd@gmail.com
636-219-9676
LAS VEGAS –
Street Car Super Nationals X Presented by Chris Alston's Chassisworks was billed as the race where records are shattered. It has lived up to the billing.
After Larry Larson set the record for quickest and fastest street car on Friday with a 6.068-second ET at 241 mph, Turky al Zafiri got back to business Saturday in the EFIStore.com Outlaw Pro Mod class. At Anarchy at the Arch at Gateway Motorsports Park in August, al Zafiri set the doorslammer ET record with a 5.461-second pass at 272.83 mph and backed it up in the finals with a 272.50 mph run. He rocketed to No. 1 at the Pacific Street Car Association's annual drag race extravaganza at The Strip at Las Vegas Motor Speedway, passing Mike Maggio, who entered the day as the provisional pole sitter, with another 272.50 mph pass with an ET of 5.616 seconds. The reigning St. Louis SCSN champ will have a bye in the first round Sunday.
In the Precision Pro Mod group, Don Walsh Jr., maintained his lead over the pack with a 5.749-second ET at 257.53 mph. He will also have a first-round bye in Sunday's eliminations. Roger Holder continued to blow away the competition Saturday night with the Pro Radial record of 6.138-seconds at 243.33 mph.
Other SCSN X top qualifiers are: Outlaw 10.5-Nick Augustin; Hot Street-Michael DeMayo; Outlaw 8.5-Eric Aldrich; and XDR/TTD-Norman Chang.
Gates open at 8 a.m. at The Strip.

For fans who can't m
ake it to the track, Bangshift.com has returned and is providing live coverage of the entire event for free.
Race information, including tickets prices, can be found
HERE
.
For more information on SCSN and its races, visit them at StreetCarSuperNationals.com or follow them on social media at Facebook.com/StreetCarSuperNationals or on Twitter at @PSCARacing.
For more on the PSCA, visit them on the web at PSCARacing.com or at their page on Facebook at Facebook.com/PSCARacing.
-HSM-
About the Pacific Street Car Association:
In its 15th season, the Pacific Street Car Association, based in Las Vegas, has been a staple of West Coast drag racing since its inception. With six heads-up classes, four bracket classes, and two index classes, the PSCA provides some of the best racing in the country for both fans and racers. The PSCA season is capped off by its Street Car Super Nationals at The Strip at Las Vegas Motor Speedway, now in its tenth year.
About HighSide Media:
Founded in 2007, HighSide Media has represented some of the top drivers, teams, facilities, sponsors, and sanctions in American motorsports. HighSide Media provides public and media relations for racers at every level with tailor-made programs for every budget. Pass YOUR Competition on the HighSide.