FOR IMMEDIATE RELEASE:
Maggio Tops in SCSN X Pro Mod; Coughlin OUT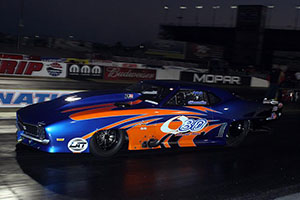 Contact:
Brandon W. Mudd
BWMudd@gmail.com
636-219-9676
LAS VEGAS –
There will be a new Outlaw Pro Mod champion at the tenth running of the Street Car Super Nationals Presented by Chris Alston's Chassisworks.
During the second round of qualifying for the Pacific Street Car Association event at The Strip at Las Vegas Motor Speedway, the JEGS-sponsored Corvette of two-time defending champion Troy Coughlin suffered serious body damage as a result of a serious malfunction near the finish line. The destruction to the front end of the car was enough to force the team to withdraw its entry.
While this was happening, in the next lane was Turky al Zafiri, who set the ET and speed record for doorslammers earlier in the year at Gateway Motorsports Park at 5.46 and 272 mph, was well off his game as well. He would rebound later in the day under the lights with a pass of 5.649 at 271 mph, good enough for third on the charts.
Pro Mod veteran Mike Maggio reigned supreme Friday, laying down a lap of 5.645 at 259.61 mph and goes into Saturday as the provisional pole sitter.
The first record of the day to be shattered was by Larry Larson, who set the mark for fastest and quickest street car with a lap of 6.068 seconds at 241 mph. That piece of history didn't last long as Larson, racing against Jeff Lutz during all qualifying sessions this weekend in a match of champions, would run a 6.043-second pass at 242.67 mph.
On the legal Pro Mod side, Don Walsh Jr., made an amazing pass for the top spot at 5.834 seconds at 253.47 mph but Lutz was able to pass him, putting down a blistering lap of 5.782 seconds at 253.99 mph. Roger Holder continues his tradition of being fast here in Pro Radial with a P1 run of 6.167 seconds at 243.41 mph.
Other provisional No. 1 qualifiers after Friday's rounds are:
Mustang Madness-Juston Spencer; XDR/TT5-Norman Chang; Wild Street-Eric Gustafson; Outlaw 8.5-George Raygoza; Hot Street-Michael Dettayo; Outlaw 10.5-Ken Sihota; Super Index-Ron Oddo; Open Comp-Brian Weber; Street Muscle-David Gauthier; Triple Index-Greg Scott; and Bracket 1-Murry Hawker.

For fans who can't m
ake it to the track, Bangshift.com has returned and is providing live coverage of the entire event for free.
Race information, including tickets prices, can be found
HERE
.
For more information on SCSN and its races, visit them at StreetCarSuperNationals.com or follow them on social media at Facebook.com/StreetCarSuperNationals or on Twitter at @PSCARacing.
For more on the PSCA, visit them on the web at PSCARacing.com or at their page on Facebook at Facebook.com/PSCARacing.
-HSM-
About the Pacific Street Car Association:
In its 15th season, the Pacific Street Car Association, based in Las Vegas, has been a staple of West Coast drag racing since its inception. With six heads-up classes, four bracket classes, and two index classes, the PSCA provides some of the best racing in the country for both fans and racers. The PSCA season is capped off by its Street Car Super Nationals at The Strip at Las Vegas Motor Speedway, now in its tenth year.
About HighSide Media:
Founded in 2007, HighSide Media has represented some of the top drivers, teams, facilities, sponsors, and sanctions in American motorsports. HighSide Media provides public and media relations for racers at every level with tailor-made programs for every budget. Pass YOUR Competition on the HighSide.