FOR IMMEDIATE RELEASE:
Street Car Super Nats X Ready to SHATTER Records This Weekend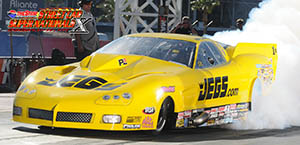 Contact:
Brandon W. Mudd
BWMudd@gmail.com
636-219-9676
LAS VEGAS –
It's one of the biggest weekends in drag racing and it's at The Strip at Las Vegas Motor Speedway this weekend. The tenth edition of the Street Car Super Nationals presented by Chris Alston's Chassisworks is finally here and the expectation is that, once again, doorslammer records will be shattered.
"Every year," said Pacific Street Car Association President Mel Roth, "we see records not just broken, but pummeled. We've seen it the last couple years here. We saw it this summer at the first St. Louis Street Car Super Nationals. Can we get a Pro Mod in the low 5.4s this weekend? Based on what we've seen in the past, I wouldn't be a bit surprised."
At Gateway Motorsports Park near St. Louis in August, Turky al Zafiri and Frankie Taylor went back and forth the entire event, seemingly breaking the ET record with every pass. In the event finals, al Zafiri took it with a 5.461 second pass. With more than 30 Pro Mods signed up, it's not out of the realm of possibility to see records fall as soon as they take to the track later this week.
In addition to the Pro Mods, more than 30 Outlaw 10.5 cars, 40 Outlaw 8.5 cars, and 60 Drag Radial cars are expected to take to the track this week at a bucket list event for drag racing fans all over the country.
Another big event at SCSN X is a battle of champions during the qualifying rounds. In one lane, it's five-time Hot Rod Drag Week champion Larry Larson in his brand new Twin Turbo Big Block Pro Mod S-10. In the other, 2014 Drag Week Champion Jeff Lutz in his world famous "Evil Twin" 1957 Matte Black Chevy.

Both of these massive hot roads will be entered into the SCSN's Outlaw Pro Mod Class, but race officials, led by NHRA's Chief Starter Mark Lyle, will make sure they line up during all qualifying rounds, giving fans four chances of seeing these amazing street cars that just completed the grueling week-long 1300-mile contest.

For fans who can't m
ake it to the track, Bangshift.com has returned and is providing live coverage of the entire event for free.
Race information, including tickets prices, can be found
HERE
.
For more information on SCSN and its races, visit them at StreetCarSuperNationals.com or follow them on social media at Facebook.com/StreetCarSuperNationals or on Twitter at @PSCARacing.
For more on the PSCA, visit them on the web at PSCARacing.com or at their page on Facebook at Facebook.com/PSCARacing.
-HSM-
About the Pacific Street Car Association:
In its 15th season, the Pacific Street Car Association, based in Las Vegas, has been a staple of West Coast drag racing since its inception. With six heads-up classes, four bracket classes, and two index classes, the PSCA provides some of the best racing in the country for both fans and racers. The PSCA season is capped off by its Street Car Super Nationals at The Strip at Las Vegas Motor Speedway, now in its tenth year.
About HighSide Media:
Founded in 2007, HighSide Media has represented some of the top drivers, teams, facilities, sponsors, and sanctions in American motorsports. HighSide Media provides public and media relations for racers at every level with tailor-made programs for every budget. Pass YOUR Competition on the HighSide.