FOR IMMEDIATE RELEASE:
Pro Mod Records Destroyed at PSCA Street Car Super Nats at Gateway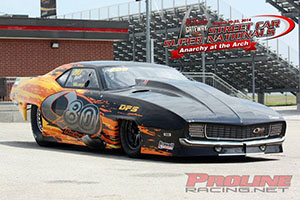 Contact:
Brandon W. Mudd
BWMudd@gmail.com
636-219-9676
MADISON, Ill. –
At the 2012 Pacific Street Car Association Street Car Super Nationals in Las Vegas, "El General" Jose Gonzalez set the door slammer world ET record with a pass of 5.73 seconds. Thursday night at Gateway Motorsports Park on the opening night of the PSCA's Anarchy at the Arch, St. Louis' inaugural SCSN, Frankie "The Madman" Taylor dropped a pass of 5.550 seconds in the Pro Line Outlaw Pro Mod class.
That record didn't last 24 hours.
Friday at GMP, despite a heat index in the triple digits and humidity you could cut with a butter knife, the ET record fell two more times. Turky Al Zafiri of Q80 racing stepped up to the plate and knocked it out of the park with a 5.531 second pass, but that lasted no time at all with Taylor reclaiming his title with an unbelievable 5.529 second run. Al Zafiri didn't go down without a fight, though. A fifth qualifying round was announced and while Taylor decided to sit it out, Al Zafiri fired off a run of 5.538 at a blistering 270.27 mph, easily smashing the existing speed record.
"It's unbelievable," said PSCA President Mel Roth. "To see .2 seconds shaved off the national ET record in under two years and to see it done at PSCA events is just incredible. And 270 miles per hour? Wow. Gateway has given us an amazing racing surface. To see these ETs and speeds in this kind of weather? That's a great track."
Taylor goes into Saturday's eliminations as the Outlaw Pro Mod top qualifier. No. 1 qualifiers in the other classes are: Dennis Pearson (Ross Racing Triple Index), Dennis Sato (Goodyear Open Comp), John Hackney (Calvert Racing Street Muscle), Alex Rogeo (Brodix Bracket 1), Justin Martin (MagnaFuel XDR/TT5), Todd Moyer (Mickey Thompson Wild Street), Krusty Ramsey (Steve Schmidt Outlaw 8.5), Mike Kimmis (MagnaFuel Outlaw 10.5), and Kevin Fiscus (Hughes Performace Pro Mod). Troy Coughlin, the two-time defending Las Vegas SCSN champ and 2012 NHRA Pro Mod title holder qualified third in Pro Mod.
Spectator gates open at Noon Saturday with eliminations kicking off at 1 p.m. local time. Fans wanting to save some money just have to give the ticket seller the code "MelPSCA" for $20 tickets and beer is on sale for only $2.
For more information on the St. Louis Street Car Super Nationals: Anarchy at the Arch next weekend, click
HERE
and to join the event page on Facebook, click
HERE
.
-HSM-
About the Pacific Street Car Association:
In its 15th season, the Pacific Street Car Association, based in Las Vegas, has been a staple of West Coast drag racing since its inception. With six heads-up classes, four bracket classes, and two index classes, the PSCA provides some of the best racing in the country for both fans and racers. The PSCA season is capped off by its Street Car Super Nationals at The Strip at Las Vegas Motor Speedway, now in its tenth year.
About HighSide Media:
Founded in 2007, HighSide Media has represented some of the top drivers, teams, facilities, sponsors, and sanctions in American motorsports. HighSide Media provides public and media relations for racers at every level with tailor-made programs for every budget. Pass YOUR Competition on the HighSide.