FOR IMMEDIATE RELEASE:
St. Louis SCSN Continues PSCA's Legacy of Being the Best in the West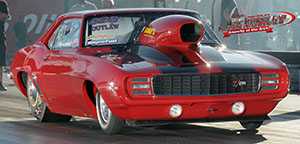 Contact:
Brandon W. Mudd
BWMudd@gmail.com
636-219-9676
LAS VEGAS –
Nine years of amazing drag racing viewed by thousands upon thousands of hardcore fans have shown the annual Street Car Super Nationals hosted by the Pacific Street Car Association is one of the true bucket list events in motorsports.
In August, the next chapter of SCSN will be written as Gateway Motorsports Park near St. Louis will host the inaugural second date of this legendary event. Anarchy at the Arch is planned for Aug. 20-23 featuring amazing heads-up racing, including the top Pro Mods in the country.
The Gateway City, known for its love of doorslammer racing, saw the former Gateway International Raceway revitalized after its purchase by area businessman/racer Curtis Francois. Dover Motorsports, the previous owner, mothballed the world-class facility leaving drag racers and fans without a comparable track.
"It was a shame that Gateway shut down," said PSCA President Mel Roth. "To have car builders like Tim McAmis, Jerry Haas and Jerry Bickel in that area without a track was, to me, criminal. So we were stoked to hear what Curtis Francois has been able to do there.
"It's also going to be great for us to be reunited with (former Las Vegas Motor Speedway executive) Chris Blair. He helped us get the ball rolling with SCSN at Vegas so it made sense to us to bring the next one to his new track."
In addition to some of the best heads-up racing in the country, the event will be a true West v. East event with world-class drivers from around the country converging on GMP. Mark Lyle, chief starter for the NHRA Mello Yello Series is scheduled to help run the show and David Cook from ProTrac Traction Services will provide the track prep.
"Gateway Motorsports Park has always been one of my favorite venues," Lyle said. "It's a fast racing surface, very fan friendly seating, and a staff second to none. I can't wait for some action under the lights. Anarchy at the Arch should have those great St Louis fans going nuts and it should be an awesome event.
"Plus, there's a very good chance I'm going to get to hit the lights on the quickest doorslammer pass ever at some point in the weekend. To have an opportunity to be part of drag racing history is pretty cool."
For more information on the St. Louis Street Car Super Nationals: Anarchy at the Arch Aug. 20-23, click
HERE
and to join the event page on Facebook, click
HERE
.
-PSCA-
About the Pacific Street Car Association:
In its 15th season, the Pacific Street Car Association, based in Las Vegas, has been a staple of West Coast drag racing since its inception. With six heads-up classes, four bracket classes, and two index classes, the PSCA provides some of the best racing in the country for both fans and racers. The PSCA season is capped off by its Street Car Super Nationals at The Strip at Las Vegas Motor Speedway, now in its tenth year.
About HighSide Media:
Founded in 2007, HighSide Media has represented some of the top drivers, teams, facilities, sponsors, and sanctions in American motorsports. HighSide Media provides public and media relations for racers at every level with tailor-made programs for every budget. Pass YOUR Competition on the HighSide.