FOR IMMEDIATE RELEASE:
Vegas in the Books, PSCA Returning to Fontana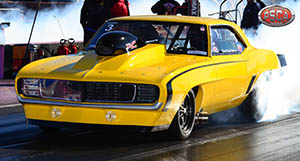 Contact:
Brandon W. Mudd
BWMudd@gmail.com
636-219-9676
LAS VEGAS –
The Pacific Street Car Association gets a weekend to rest up from the MagnaFuel Nationals at The Strip at Las Vegas Motor Speedway and then it's back on the road. The PSCA is making its second trip to Fontana, this time for the Calvert Racing Summer Nationals at the Auto Club Dragway.
"We had a blast at Fontana and we can't wait to get back up there next weekend," said PSCA President Mel Roth. "In fact, we're giving our fans tickets that are half off to let them know how much we appreciate them and how much we are glad to be back here."
The event, running June 6-8, will feature an open test and tune Friday 11 a.m. – 5 p.m. with racing starting Saturday morning at 8 with Jr. Dragsters kicking off the program. Spectator gates open at 7 a.m. both days.
For information on the event, click
HERE
.
Last weekend's MagnaFuel Nationals at The Strip provided speed freaks and motor heads with all the action they could have hoped for. David Bevers of North Las Vegas won the MagnaFuel Outlaw 10.5 title to cap the event. Bevers, driving a 1966 Chevrolet El Camino, beat Enrique Soto of Lennox, Calif., in the Outlaw 10.5 final with a run of 4.704 seconds at 153.35 mph. Doug Sikora was the top qualifier in the class.
"We're seeing a lot of diversity in this class in 2014," said Roth. "In four races, we've had four different winners and four different runner-ups. It's going to be a great run to the finish, that's for sure."
Mike Orban of Santa Maria, Calif. broke the year-old Mickey Thompson Tires Wild Street ET Record with a very stout 4.875. That ET qualified him No. 1 and led to a runner-up finish to the new points leader Armen Maghdessian.
Also claiming class titles: Roger Holder (Bakersfield, Calif.) in MagnaFuel XDR/TT5; Casey Van Tol (Orland, Calif.) in Vortech Superchargers Outlaw 8.5; Armen Maghdessian (Westminster, Calif.) in Mickey Thompson Wild Street; Joe Keurjikian (Hollywood, Calif.) in AOS Hot Street; Brent Calvert (Lancaster, Calif.) in Mustang Madness; Nick Kendrick (Lake Havasu City, Ariz.) in Edelbrock Super Index; and Charlie Jorgensen (Wildomar, Calif.) in Ross Triple Index.
Fans of the Pacific Street Car Association can find updates and photos of PSCA racers and events by checking out PSCARacing.com, Twitter.com/PSCARacing, and Facebook.com/PSCARacing. Videos of PSCA drag racing action can be found at YouTube.com/PSCARacing.
Racers and fans can also visit the PSCA's official page on
Facebook
to find photos, stories, and videos of the best drag racing in the country.
PSCA Merchandise:
Did you miss the MagnaFuel Nationals at Vegas? No problem. You can get the shirt at the PSCA store! Click
HERE
for shirts and everything else the racer in your family wants.
-PSCA-
About the Pacific Street Car Association:
In its 15th season, the Pacific Street Car Association, based in Las Vegas, has been a staple of West Coast drag racing since its inception. With six heads-up classes, four bracket classes, and two index classes, the PSCA provides some of the best racing in the country for both fans and racers. The PSCA season is capped off by its Street Car Super Nationals at The Strip at Las Vegas Motor Speedway, now in its tenth year.
About HighSide Media:
Founded in 2007, HighSide Media has represented some of the top drivers, teams, facilities, sponsors, and sanctions in American motorsports. HighSide Media provides public and media relations for racers at every level with tailor-made programs for every budget. Pass YOUR Competition on the HighSide.