Mason Mingus; Win-Tron Racing Earn Top-10 Finish In ARCA Opener
Mason Mingus; Win-Tron Racing Earn Top-10 Finish In ARCA Opener
Chris Knight
Knight Motorsports Management
Win-Tron Racing
February 17, 2013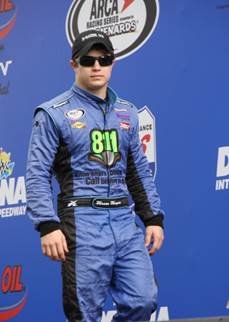 Mason Mingus, driver of the No. 32 Diamond Equipment / Call 811 Before You Dig Toyota Camry in the ARCA Racing Series presented by Menards for Win-Tron Racing.
DAYTONA BEACH, Florida (February 17, 2013)
- - Despite some front-end damage on his No. 32 Call 811 Before You Dig / Diamond Equipment Toyota Camry at Daytona (Fla.) International Speedway Saturday afternoon, ARCA Racing Series presented by Menards rookie Mason Mingus recovered nicely for a solid seventh-place run in the season-opening Lucas Oil 200 presented by MAVTV American Real.
And even though Mingus didn't depart the 2.5-mile superspeedway with the trophy, the Brentwood, Tennessee native did leave the "World Center of Racing" with some solid footing towards the rest of the season.
Encouraging pre-season testing results for the newly based Mooresville, North Carolina team had the veteran ARCA operation, led by former champion crew chief Mark Rette, looking forward to ARCA's 50th trip to Daytona.
The first practice of the year begun on Thursday afternoon, but would abruptly be interrupted by Mother Nature just an hour-and-a-half into the slated four hour practice session with the No. 32 Call 811 Before You Dig / Diamond Equipment Toyota Camry officially slated in seventh among the 42-car rundown. The confident freshman informed his team that he was happy with his racecar.
For Friday's Menards pole qualifying presented by Ansell session, Mingus continued to show strength after maneuvering the ninth quickest-lap, proving the Daytona rookie was more than ready for the 80 laps that awaited him on Saturday afternoon.
The green flag flew under overcast skies with Mingus holding steady inside the top-10. The 18-year old driver would remain safely inside the lead pack until the first caution flag waived on lap 11 for a blown engine by the No. 94 of Julian Jousse.
Running fifth under the first yellow of the day, Mingus was advised by Rette to bring his No. 32 Call 811 Before You Dig / Diamond Equipment Toyota Camry down pit lane for fuel only.
A botched restart on lap 18 saw several cars scrambling to avoid contact with one another. Mingus though wasn't as fortunate as he made contact with another car acquiring front-end damage to the No. 32 Call 811 Before You Dig / Diamond Equipment Toyota Camry. Despite the mishap, Mingus was able to maintain his presence inside the top-10, before a multi-car incident ensued approaching lap 20 with Mingus masterfully dodging the ensuing carnage around him.
Cleanly through the "big one", the Tennessean under instructions from Rette brought his machine to pit road for repairs. Excellent damage control though from the Win-Tron Racing team allowed them to sufficiently repair their racecar and return to competition.
Despite being marred in 27th for the impending restart, there were still plenty of laps to be filled, meaning ample time for Mingus to draft his automobile back towards the front.
Methodically, he would steadily climb through the field and find himself back in the top-10 by lap 34. Through the second-half of the 80-lap event, the rookie-of-the-year candidate would easily maintain a presence inside the top-10, but would be unable to latch onto the lead group, consisting of five race cars.
Without a caution in the final 49 laps of the race to jumble the field back together, the checkered flag was thrown, with Mingus being credited with seventh, recording his eighth top-10 finish of his young ARCA career.
"We had a pretty solid run overall," said Mingus. "I think we had a much better car but we encountered some damage when the field stacked up on a restart. The guys on pit road did a great job getting it repaired and we were able to come back from 27th to seventh after it was all said and done. It was definitely a learning experience and I'm excited for Talladega. I think we would have ended up a lot better if not for the damage, but still not a bad way to start the season."
Nate Thiesse, co-car owner of Win-Tron Racing offered his insights on his pupil's debut at Daytona. "Mason did a fantastic job," he said. "He was strong throughout the weekend and even though we found trouble on that restart, Mason never lost focus and after the team repaired the car, he was determined to race his way back to the front and that's exactly what he did. We're off to a good start to the season and we'll head to Mobile here in a few weeks and look to keep the momentum rolling."
Unofficially, Mingus departs Daytona seventh in the championship standings, 50 points behind leader and race winner John Wes Townley.
Next up for the ARCA Racing Series presented by Menards is the second annual ARCA Mobile 200 from Mobile (Ala.) International Speedway on Saturday, March 9.
Further information including driver opportunities with Win-Tron Racing's multiple Motorsports programs is available by visiting win-tronracing.com or contacting Nate Thiesse at 612.306.1641.
Learn about Call 811 Before You Dig and what it can do for you by connecting to call811.com.
For more on Mason Mingus, please visit MasonMingusRacing.com.
Mingus tweets too. Follow him on Twitter @Mason_Mingus.
About Win-Tron Racing:
Located in Mooresville, North Carolina, Win-Tron Racing is the home of one the most potent ARCA Racing Series presented by Menards single-car operations. Owned by former racers Kevin Cywinski and Nate Thiesse, the team since has acquired the assets of County Joe Racing has become a favorable fixture on the circuit. Since Win-Tron Racing's inception in 2007, the team has hosted a variety of drivers including leading drivers James Buescher, Blake Bjorklund, Justin Marks, Matt Merrell and Brandon McReynolds to their first career ARCA victories. In 2013, the team will begin its seventh year of competition with a presence in the ARCA Racing Series presented by Menards, the NASCAR K&N Pro Series (East) and the NASCAR Camping World Truck Series.
###
CONTACT:
NAME: Chris Knight (@Knighter01)
PHONE: 704.775.2273
EMAIL: chris@chrisknightpr.com
Connect with The Crittenden Automotive Library