Mason Mingus Hoping Decision Pays Off In Daytona
Mason Mingus Hoping Decision Pays Off In Daytona
Chris Knight
Knight Motorsports Management
Win-Tron Racing
February 12, 2013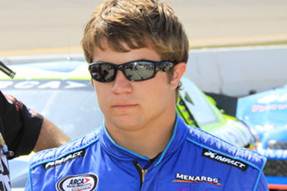 Mason Mingus, driver of the No. 32 Call 811 Before You Dig Toyota Camry in the ARCA Racing Series presented by Menards for Win-Tron Racing.
DAYTONA BEACH, Florida (February 12, 2013)
- - For ARCA Racing Series presented by Menards championship contender Mason Mingus, the decision to halt a successful wrestling career in lieu of competing at Daytona (Fla.) International Speedway, the site of Saturday's season-opening Lucas Oil 200 presented by MAVTV American Real, undoubtedly is one of the toughest choices he's ever had to make. So far.
The Brentwood, Tennessee native, however, was more than willing to forgo his state wrestling individual championship rounds, in order to unite with his Mooresville, North Carolina-based Win-Tron Racing team for a chance at victory in the series' most prestigious event. Although he was ranked second in his wrestling division, Mingus is determined to broaden his racing horizons in his quest for that first-career win, not to mention the opportunity to embrace the role as a potential series champion.
"I've enjoyed a strong and successful wrestling career, but racing is my future and ultimately my passion," said Mingus, driver of the No. 32 Call 811 Before You Dig Toyota Camry. "So, while I wish I would be back in Tennessee competing in those finals, I know I'll be living out a dream of a lifetime to race at Daytona International Speedway and even better have a shot at winning the race."
Indeed, Mingus's chances are favorable. The longtime ARCA organization has racked up stellar results at the 2.5-mile superspeedway over the years and just last year found themselves again in the hunt for the trophy before running out of fuel with the lead car coming out of the final turn on the final lap. Still, the team sees last year's misfortune as an opportunity at redemption and for Mingus, the liberty to shine in the spotlight.
"I can't wait for Daytona," sounded Mingus. "This will be my first time racing on a superspeedway, but I think we are ready to go. We had a good solid test in December and I feel much more confident going into this race with some laps under my belt. The guys at the shop have been working incredibly hard all winter getting our cars prepared for a full-season slate. I know I will have a car and team that is capable of finishing inside the top-three. For me, there wouldn't be a better way to start of the season than a win at Daytona."
While the 50th anniversary event at Daytona for the ARCA Racing Series is huge, Mingus is also well aware that the event is just one of 21 races slated for 2013. So, while they have one main goal for the race, the bigger picture is still clearly in the back of their minds.
"I plan on trying to the win the championship," offered the teenager. "To have a shot at it though, we need to consistently finish in the top-three. If we can do that, the wins will come and we will be a vital threat when Kansas rolls around in October."
"We have all the ingredients to make this one of our best seasons yet in ARCA competition," said Nate Thiesse, co-car owner of Win-Tron Racing. "Mason showed a lot of maturity and growth last year and there is little doubt that will continue with him being behind the wheel on a weekly basis. He's a talented driver with a crew chief behind him, who sincerely believes in his abilities. Those two elements together make us a firm threat for the championship."
The Lucas Oil 200 presented by MAVTV American Real (80 laps / 200 miles) is the first of 21 events on the 2013 ARCA Racing Series presented by Menards schedule. The 50th ARCA race held at Daytona is a three-day show. Practice begins Thursday, February 14 with a four hour practice session planned from 1:00 p.m. - 5:00 p.m. Menards pole qualifying presented by Ansell is set for Friday, February 15 slated to begin at 2:00 p.m. A forty-five minute final practice session is etched in on Saturday, February 16 from 10:00 a.m. - 10:45 a.m. The event will take the green flag later that day shortly after 4:30 p.m. The race will be televised live on SPEED with additional race coverage including live timing and scoring through the ARCA Racing Network (ARN) online at arcaracing.com. All times are local. ARCA, celebrating its 61st season in 2013 is the preamble for the highly anticipated Sprint Unlimited for the NASCAR Sprint Cup Series (NSCS) set to ignite under the lights later that night.
Further information including driver opportunities with Win-Tron Racing's multiple Motorsports programs is available by visiting win-tronracing.com or contacting Nate Thiesse at 612.306.1641
Learn about Call 811 Before You Dig and what it can do for you by connecting to call811.com.
For more on Mason Mingus, please visit MasonMingusRacing.com.
About Win-Tron Racing:
Located in Mooresville, North Carolina, Win-Tron Racing is the home of one the most potent ARCA Racing Series presented by Menards single-car operations. Owned by former racers Kevin Cywinski and Nate Thiesse, the team since has acquired the assets of County Joe Racing has become a favorable fixture on the circuit. Since Win-Tron Racing's inception in 2007, the team has hosted a variety of drivers including leading drivers James Buescher, Blake Bjorklund, Justin Marks, Matt Merrell and Brandon McReynolds to their first career ARCA victories. In 2013, the team will begin its seventh year of competition with a presence in the ARCA Racing Series presented by Menards, the NASCAR K&N Pro Series (East) and the NASCAR Camping World Truck Series.
###
CONTACT:
NAME: Chris Knight (@Knighter01)
PHONE: 704.775.2273
EMAIL: chris@chrisknightpr.com
Connect with The Crittenden Automotive Library