Willie Allen Sets Sights On Lucas Oil Raceway
Willie Allen Sets Sights On Lucas Oil Raceway
Chris Knight
Knight Motorsports Management
July 23, 2014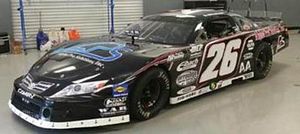 The No. 26A Alpha Pro Solutions / W.A.R. Shocks Toyota Camry owned by Mobley Speed driven by Willie Allen in the ARCA / CRA Super Series powered by JEGS.
CLERMONT, Indiana (July 23, 2014)
- - Racing veteran Willie Allen enters this weekend's ARCA / CRA Super Series powered by JEGS event at Lucas Oil Raceway with one mission.
Win.
Allen, the Bon Aqua, Tennessee native has kept a low-profile in 2014 racing in local events at Fairgrounds Speedway Nashville, but when the opportunity was presented to head north and compete at one of his favorite tracks, it was an offer too good to refuse.
In a double-header event with the ARCA Racing Series presented by Menards, Allen will pilot the No. 26A Alpha Pro Solutions / W.A.R. Shocks Toyota Camry for team Mobley Speed.
Alpha Pro Solutions Inc. is an internationally recognized Drug Free Workplace Web, Video Cam and Classroom Training provider and is a DOT Testing Service Agent and Consulting Company. APS Inc is an authorized distributor of Drug and Alcohol Testing devices, including DOT approved Breathalyzer EBTs and Alcohol Screening Device ASDs and supplies.
"I'm looking forward to returning to Lucas Oil Raceway this weekend," said Allen. "This is an opportunity to go out and there and run in a pretty big event, with some of the best late model drivers in the area, not to mention the country.
"I love racing at Lucas Oil Raceway because there is so many racing groves around the track. You can be three or four wide at times, the track is that forgiving. It's definitely a driver's track. You can move around (the track) and adjust the handling of your car too. It's just one of those places you wish you could compete at on a weekly basis."
Allen added, "None of this though would be possible if not for Wendell Mobley and his group and our sponsors Alpha Pro Solutions and W.A.R. Shocks. Wendell is a mega hit song writer from the Nashville area who also happens to be a race fan, so it's always pretty special when you can mix music and racing into one.
"We've had the car at our shop here the past couple of weeks overlooking it with a fine tooth comb, because we want to go out there and put on a show. With drivers like Kyle Busch, Chad Finley, Ross Kenseth, Will Kimmel and David Ragan in the mix, you better be on you're a-game."
Following the Circle City 100 presented by JEGS.com, Allen is hopeful he can keep competing in a limited schedule on the ARCA / CRA Super Series powered by JEGS tour, but admits, he's pretty busy with other things too.
"I'm a racer so I always want to race," he said. "I have a great family, our shock company (WAR Shocks) is doing well and winning races and I'm still able to go out there once in a while and get behind the wheel. However, until I can get back in it (racing) full-time, I'm going to embrace and appreciative every opportunity I get and try and make the best of it."
For more on Willie Allen, please visit his Facebook page, facebook.com/willieallenracing or follow him on Twitter @WillieAllen26.
For additional input on W.A.R. Shocks, please logon to www.facebook.com/warshocksllc.
CONTACT:
Kristen Allen
kallen@warshocksllc.com
931.670.4024
Connect with The Crittenden Automotive Library