FOR IMMEDIATE RELEASE:

Matt Smith Finishes Challenging Season 4th in Final Points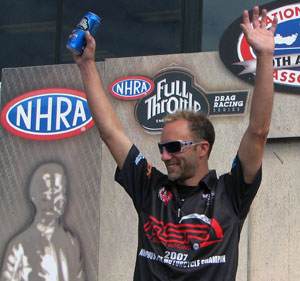 Contact:
Brandon W. Mudd
636.219.9676
PR@HighSideMedia.com

POMONA, Calif.:
In a season that saw former NHRA Full Throttle Series Pro Stock Motorcycle champion Matt Smith lose a primary sponsor and suffer multiple engine issues in the latter part of the season, a win (Englishtown) and a fourth-place finish in the final class standings is simply Herculean. When you consider the six other drivers in the Countdown to 1 who had more money and more resources, Smith's season is all the more impressive.
A former winner and two-time top qualifier at the Auto Club NHRA Finals at Auto Club Raceway, Smith was paired with Chip Ellis in the first round of eliminations Sunday. Smith edged the multi-time Nationals event winner by .02 seconds at the finish line. In the quarterfinal round, however, the engine issues resurfaced, giving Hector Arana Jr. the E2 victory. The North Carolina native came into the event third in points, just ahead of Andrew Hines, and hoped to leave California in the same position. Due to Smith's early exit, though, and Hines going on to win the race, Smith ended his season fourth, hardly a finish to hang one's head about.
"All in all, it was a good year," Smith said following Monday's NHRA Banquet. "It would have been nice to celebrate a win to close out the season. Hopefully, we can find a sponsor in the offseason so we can do some research and development on our engine program to find some more horsepower."
Even with the loss of his primary sponsor, a number of people and organizations stepped up to help Matt and his wife and Matt Smith Racing teammate, Angie, allowing them to race. "I have to thank Haltech, Red Line Oil, PJ1, WorldWide Bearings, Affliction, and CP Pistons for their continued support. They stood by us and we appreciate it.
"I also want to thank the great fans who participated in our Fan Bike program in Charlotte. We had a great time representing our fans on the track and hanging out with them during our pit party. Hopefully we can do that again."
Angie and MSR's third rider, Michael Ray, qualified ninth and eighth, respectively, Sunday. Facing each other in the first round, Angie was able to beat Ray to advance to the quarterfinals. She was eliminated in the next round by Hines.
The 2012 NHRA Full Throttle Series Pro Stock Motorcycle season kicks off at the Tire Kingdom NHRA Gatornationals March 8-11 in Gainesville, Fla. An announcement will be made in the coming weeks regarding Matt Smith Racing's future plans.
The Smiths Pose for Charity
: Angie and Matt are featured in Tony Pedregon's NHRA Full Throttle Series Real Families calendar to benefit children's cancer research. For more information, click
HERE
.
Fans of Matt Smith can find updates and photos of Matt Smith Racing at MattSmithRacing.com, Facebook.com/MattSmithRacing, and Twitter.com/MattSmithRacing. Videos of Matt and Matt Smith Racing can be found at YouTube.com/MattSmithNHRA. For information regarding sponsorship opportunities with Matt Smith Racing, please e-mail
MattSmithRacing@yahoo.com
.
For more information on HighSide Media, its programs, and its clients, visit HighSideMedia.com. You can also follow HSM at Twitter.com/HighSideMedia and on its official page on Facebook.
-HSM-
About HighSide Media
Founded in 2007, HighSide Media has represented some of the top drivers, teams, facilities, sponsors, and sanctions in American motorsports. HighSide Media provides public and media relations for racers at every level with tailor-made programs for every budget. Pass YOUR Competition on the HighSide.