FOR IMMEDIATE RELEASE:
Matt Smith Looking for a Positive Ending to a Long Season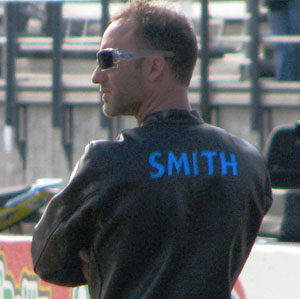 Contact:
Brandon W. Mudd
636.219.9676
PR@HighSideMedia.com

POMONA, Calif.:
On paper, a win and a potential third-place finish in the final points standings would appear to be a pretty successful season. However, racing isn't done on paper. Matt Smith has seen his team lose a primary sponsor and has been plagued by gremlins on his Haltech/Redline Oil/Affliction Buell. After qualifying seventh for Sunday's Auto Club NHRA Finals with a 6.896 second ET, the 2007 class champion who also won this event that same year is looking forward to the offseason.
"I'll be glad to get the year over with," he said. "It's been a rough year with losing a sponsor and three of the last five runs I've made we haven't gone further than five feet on the track. We've got some kind of little problem going on. We don't know if it's the clutch or the two-step switch or the tires. We changed everything on the last pass and everything worked on the last pass. It's something I'll figure out over the winter while testing and get it right, but we'll just be glad to be done with the season."
Smith faces Chip Ellis in E1 Sunday while his two teammates, Michael Ray and wife Angie Smith, face each other after qualifying eighth and ninth, respectively. Matt will try to maintain his hold on third place against current fourth-place rider and weekend top qualifier, Andrew Hines.
"We'll see what we can do tomorrow," Smith said. "Hopefully we can finish third in points, if not, we'll be fourth and we'll go on towards next year."
Hines earned the pole with an ET of 6.820 seconds. Pro Stock Motorcycle and Pro Stock were able to complete their fourth round of qualifying, but the event was shut down in the midst of Funny Car quals due to inclement weather. Hector Arana Jr. and Hines' teammate and former class champion Eddie Krawiec are battling for the season title.
The Smiths Pose for Charity
: Angie and Matt are featured in Tony Pedregon's NHRA Full Throttle Series Real Families calendar to benefit children's cancer research. For more information, click
HERE
.
Matt Smith Racing is entered in the Auto Club NHRA World Finals this weekend in Pomona. Sunday's pre-race ceremonies begin at 9:45 a.m. with first round of eliminations running at 11. For tickets, click
HERE
.
Fans of Matt Smith can find updates and photos of Matt Smith Racing at MattSmithRacing.com, Facebook.com/MattSmithRacing, and Twitter.com/MattSmithRacing. Videos of Matt and Matt Smith Racing can be found at YouTube.com/MattSmithNHRA. For information regarding sponsorship opportunities with Matt Smith Racing, please e-mail
MattSmithRacing@yahoo.com
.
For more information on HighSide Media, its programs, and its clients, visit HighSideMedia.com. You can also follow HSM at Twitter.com/HighSideMedia and on its official page on Facebook.
-HSM-
About HighSide Media
Founded in 2007, HighSide Media has represented some of the top drivers, teams, facilities, sponsors, and sanctions in American motorsports. HighSide Media provides public and media relations for racers at every level with tailor-made programs for every budget. Pass YOUR Competition on the HighSide.