FOR IMMEDIATE RELEASE:
Matt Smith to Face Savoie in E1 at Joliet Sunday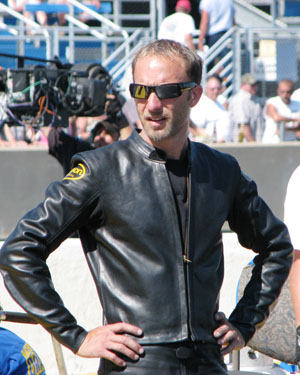 Contact:
Brandon W. Mudd
636.219.9676
PR@HighSideMedia.com

JOLIET, Ill.:
JOLIET, Ill. – Despite issues with his Buell, former NHRA Full Throttle Series Pro Stock Motorcycle champion Matt Smith moved up to seventh in qualifying Saturday at Route 66 Raceway with a pass of 7.003 seconds at 187.18 mph. Smith, fifth in points after racing to the last two class finals, is stymied by the lack of speed past halftrack.
"We've got a really good bike until the eighth mile," Smith said after qualifying. "Haven't quite figured the tune up yet on the back half. Been everywhere from more fuel to less fuel, more timing, less timing. We just can't seem to hit the number. But if we get that, I know we're going to be really fast. We were the third- or fourth-fastest bike of the (fourth) round today."
Smith, who lost in the first round here last year to Steve Johnson, faces Gerald Savoie in the first round of eliminations for the O'Reilly Auto Parts Route 66 NHRA Nationals Sunday. "I think we'll give the rookie (Savoie) a good run and we should be OK if I do my job on the tree and get a better tune up. We'll see what happens tomorrow."
Hector Arana III maintained P1 Saturday with an ET of 6.950 seconds at 191.65 mph. Smith's teammate and wife, Angie, qualified 14
th
and will face defending event winner and class champion LE Tonglet in the first round of eliminations Sunday, scheduled to kick off at 11 a.m. local time.
Matt in the Media:
Smith was featured on the
RPM2Night.com podcast
recently where he discussed a number of topics including lack of sponsorship and racing Pro Mods later this year.
Fans of Matt Smith can find updates and photos of Matt Smith Racing at MattSmithRacing.com, Facebook.com/MattSmithRacing, and Twitter.com/MattSmithRacing. Videos of Matt and Matt Smith Racing can be found at YouTube.com/MattSmithNHRA. For information regarding sponsorship opportunities with Matt Smith Racing, please e-mail
MattSmithRacing@yahoo.com
.
For more information on HighSide Media, its programs, and its clients, visit HighSideMedia.com. You can also follow HSM at Twitter.com/HighSideMedia and on its official page on Facebook.
-HSM-
About HighSide Media
Founded in 2007, HighSide Media has represented some of the top drivers, teams, facilities, sponsors, and sanctions in American motorsports. HighSide Media provides public and media relations for racers at every level with tailor-made programs for every budget. Pass YOUR Competition on the HighSide.