FOR IMMEDIATE RELEASE:

Matt Smith Sweetens the Deal for zMAX Dragway Fan Sponsors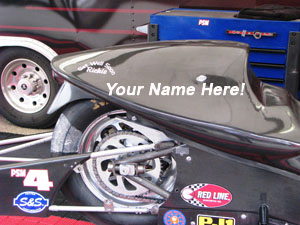 Contact:
Brandon W. Mudd
636.219.9676
PR@HighSideMedia.com

KING, N.C.:
This week, former NHRA Full Throttle Series Pro Stock Stock Motorcycle champion Matt Smith offered drag racing fans the opportunity to be a part of his team at zMAX Dragway Sept. 15-18 for the O'Reilly Auto Parts NHRA Nationals. For $20, fans can sponsor Smith's Buell at his home track, where he won the inaugural 4-Wide Nationals in 2010. The sponsorship provides access to a party at the Matt Smith Racing pit Thursday, Sept. 15, where the sponsor can personally sign their name on the bike, receive an autograph from both Matt and Angie Smith, and participate in a group photo with Matt, Angie, the MSR Fan Sponsor Buell, and other sponsors.
Matt decided that wasn't enough.
"We've already had a bunch of people sign up for this deal and we're blown away with the response we've seen," said Smith, currently fourth in PSM points. "To sweeten the pot a little, we're going to put everyone's name in a hat on the day of the pit party and pull five names. The first four will receive autographed team shirts. The fifth is going to get a team credential that allows them to go anywhere with us, including the starting line for every pass we make. We want to make this a great weekend for all our new sponsors and hopefully, they'll be partying with us in the Winner's Circle Sunday!"
Sponsors will receive one MSR Pit Party invitation and can sign one name per $20 sponsorship; however, fans may purchase as many sponsorships as they would like. If a sponsor is unable to attend the Pit Party, Matt or Angie will sign the sponsor's name to the bike personally and an autograph will be mailed to them.
The next race for Matt is Brainerd (Minn.) International Raceway Aug. 18-21. The North Carolina native was able to commit to the event thanks to additional sponsorship from
Red Line Synthetic Oil
and
Haltech Fuel Injection Systems
.
For more information on this opportunity, click
HERE
. For any questions regarding sponsorships, e-mail Matt Smith Racing at
SponsorMattsBike@yahoo.com
. For more information on the O'Reilly Auto Parts NHRA Nationals at zMAX Dragway Sept. 15-18 or to purchase tickets, click
HERE
.
Fans of Matt Smith can find updates and photos of Matt Smith Racing at MattSmithRacing.com, Facebook.com/MattSmithRacing, and Twitter.com/MattSmithRacing. Videos of Matt and Matt Smith Racing can be found at YouTube.com/MattSmithNHRA. For information regarding sponsorship opportunities with Matt Smith Racing, please e-mail
MattSmithRacing@yahoo.com
.
For more information on HighSide Media, its programs, and its clients, visit HighSideMedia.com. You can also follow HSM at Twitter.com/HighSideMedia and on its official page on Facebook.
-HSM-
About HighSide Media
Founded in 2007, HighSide Media has represented some of the top drivers, teams, facilities, sponsors, and sanctions in American motorsports. HighSide Media provides public and media relations for racers at every level with tailor-made programs for every budget. Pass YOUR Competition on the HighSide.