FOR IMMEDIATE RELEASE:

Fans Can Sponsor Matt Smith at zMAX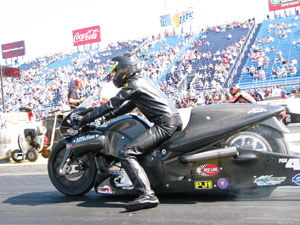 Contact:
Brandon W. Mudd
636.219.9676
PR@HighSideMedia.com

KING, N.C.:
The NHRA Full Throttle Series provides fans with more access to drivers and teams than any other form of racing. Drag addicts can regularly be seen hobnobbing with some of the best racers on the planet at any given event.
The level of access just got better.
Former Pro Stock Motorcycle champion Matt Smith is offering fans a unique opportunity to be a part of his team for his home race at zMAX Dragway in Concord, N.C., Sept. 15-18. Matt Smith Racing is selling sponsorships to the general public for the O'Reilly NHRA Nationals for $20. For their money, sponsors will receive an invitation to the MSR Pit Party at the track Thursday, Sept. 15, where they can sign their name on the bike, receive an autograph from Matt Smith and Angie Smith, and participate in a group photo with Matt, Angie, the MSR Fan Buell, and other sponsors. Sponsors will only receive one MSR Pit Party invitation and can only sign one name per $20 sponsorship; however, fans may purchase as many sponsorships as they would like. If a sponsor is unable to attend the Pit Party, Matt or Angie will sign the sponsor's name to the bike personally and an autograph will be mailed to them.
"We wanted to show the fans our appreciation for all the support they've given us, especially recently when we have been faced with some adversity," said Matt, a former winner at zMAX Dragway. "Sponsoring Matt Smith Racing for the Charlotte race gives our fans a chance to be a part of the team. We're looking forward to meeting with them and having a great time before the race."
For more information on this opportunity, click
HERE
. For any questions regarding sponsorships, e-mail Matt Smith Racing at
SponsorMattsBike@yahoo.com
.
Fans of Matt Smith can find updates and photos of Matt Smith Racing at MattSmithRacing.com, Facebook.com/MattSmithRacing, and Twitter.com/MattSmithRacing. Videos of Matt and Matt Smith Racing can be found at YouTube.com/MattSmithNHRA. For information regarding sponsorship opportunities with Matt Smith Racing, please e-mail
MattSmithRacing@yahoo.com
.
For more information on HighSide Media, its programs, and its clients, visit HighSideMedia.com. You can also follow HSM at Twitter.com/HighSideMedia and on its official page on Facebook.
-HSM-
About HighSide Media
Founded in 2007, HighSide Media has represented some of the top drivers, teams, facilities, sponsors, and sanctions in American motorsports. HighSide Media provides public and media relations for racers at every level with tailor-made programs for every budget. Pass YOUR Competition on the HighSide.