FOR IMMEDIATE RELEASE:
Angie Smith 12th in Provisional Qualifying at Joliet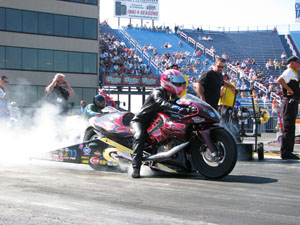 Contact:
Brandon W. Mudd
636.219.9676
PR@HighSideMedia.com

JOLIET, Ill.:
With the first day of the 14
th
Annual O'Reilly Auto Parts Route 66 NHRA Nationals at Route 66 Raceway in the books, NHRA Full Throttle Series Pro Stock Motorcycle rider Angie Smith is safely in the show in 12
th
position with a 7.075 second ET at 185.89 mph. Although she knows she will race on Sunday, the North Carolina native, along with her tuner/team owner/husband Matt, will work on the Buell to improve her position on Saturday.
"Today was an OK day for us," said Angie, who fell to eventual event winner LE Tonglet here last year in a close semi-final race. "In the first pass, we were running and I couldn't shift from first (gear) to second (gear) and I had to kinda pedal it and get out of the gas and then get back in the gas, so I didn't run really good.
"Second round was an alright run, we just made a bad tune-up call, so I think we're going to be alright. I'm in the 12
th
position so, all in all, it's an OK day. We're in, so at least I'll sleep tonight! Tomorrow we'll regroup and make a solid run and be in the show so we can race on Sunday."
Hector Arana III, son of former PSM champ Hector Arana Jr., took provisional P1 Friday with an ET of 6.950 seconds at 188.96 mph.
Fans of Angie Smith can find updates and photos of Matt Smith Racing at MattSmithRacing.com, Facebook.com/Matt.AngieSmith, and Twitter.com/AngieSmith77. Videos of Angie and Matt Smith Racing can be found at YouTube.com/MattSmithNHRA. For information regarding sponsorship opportunities with Matt Smith Racing, please e-mail
MattSmithRacing@yahoo.com
.
Saturday's two rounds of qualifying are set to run at 4 p.m. and again at 7 p.m. Eliminations start at 11 a.m. Sunday. For ticket information, call Route 66 Raceway at 888-629-RACE or visit them on the Web at Route66Raceway.com.
For more information on HighSide Media, its programs, and its clients, visit HighSideMedia.com. You can also follow HSM at Twitter.com/HighSideMedia and on its official page on Facebook.
-HSM-
About HighSide Media
Founded in 2007, HighSide Media has represented some of the top drivers, teams, facilities, sponsors, and sanctions in American motorsports. HighSide Media provides public and media relations for racers at every level with tailor-made programs for every budget. Pass YOUR Competition on the HighSide.