FOR IMMEDIATE RELEASE:
Angie Smith Has Her Eyes on the Prize at Pomona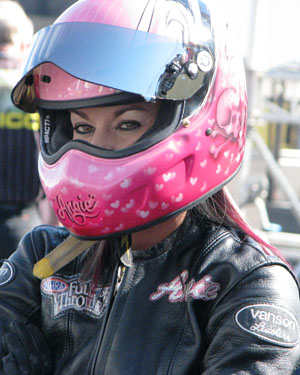 Contact:
Brandon W. Mudd
636.219.9676
PR@HighSideMedia.com

Pomona, Calif. –
This weekend could be huge for NHRA Full Throttle Series Pro Stock Motorcycle rider Angie Smith.
The North Carolina native is not only racing for her first-career class win, but is also on the hunt for the sponsorship that would allow her to race in 2012 and beyond. Her second-round ET of 6.955 seconds was good enough for 13
th
overall and was the seventh-highest time of the session. While her husband/crew chief/team owner Matt Smith and teammate Michael Ray were unable to make it down the track in Q2, Angie's pass was smooth and event free.
"I was seventh of the session today and had a good run," she said. "We'll just see if it rains or not and if not, hopefully we'll get further up the qualifying ladder. We'll just see what's going on. I think there's still a 60 percent chance of rain. It's just going to be one of those things. If it rains, we're in. If it doesn't rain, we have a good shot to qualify in the top eight."
Angie and the rest of Matt Smith Racing need a good weekend at the Auto Club NHRA World Finals. After reaching the semi-finals two weeks ago at The Strip at Las Vegas Motor Speedway, a strong run at Auto Club Raceway in the 2011 season finale could attract the much-needed marketing partners that would allow her to continue racing next season.
"We don't have anything for 2012," Smith said while taking a break from working on her MSR Buell. "I don't have anything. If we don't get anything, I'm not going to be out here racing. That's really a bad deal because I love racing more than anything and I want to be out here racing. I love it. So if you know anybody, tell your friends, tell your family, tell anybody. We're desperate, we need sponsors."
Former PSM champion Andrew Hines is currently atop the leaderboard after running a 6.820 ET Friday. If Saturday's qualifying is rained out, Angie would face Hector Arana in the first round of Sunday's eliminations.
The Smiths Pose for Charity
: Angie and Matt are featured in Tony Pedregon's NHRA Full Throttle Series Real Families calendar to benefit children's cancer research. For more information, click
HERE
.
Angie and Matt Smith Racing are entered in the Auto Club NHRA World Finals this weekend in Pomona. Saturday will see the final two rounds, expected for 11 a.m. and 1:45 p.m. Sunday's pre-race ceremonies begin at 9:45 a.m. with first round of eliminations running at 11. For tickets, click
HERE
.
Fans of Angie Smith can find updates and photos of Matt Smith Racing at MattSmithRacing.com, Facebook.com/Matt.AngieSmith, and Twitter.com/AngieSmith77. Videos of Angie and Matt Smith Racing can be found at YouTube.com/MattSmithNHRA. For information regarding sponsorship opportunities with Matt Smith Racing, please e-mail
MattSmithRacing@yahoo.com
.
For more information on HighSide Media, its programs, and its clients, visit HighSideMedia.com. You can also follow HSM at Twitter.com/HighSideMedia and on its official page on Facebook.
-HSM-
About HighSide Media
Founded in 2007, HighSide Media has represented some of the top drivers, teams, facilities, sponsors, and sanctions in American motorsports. HighSide Media provides public and media relations for racers at every level with tailor-made programs for every budget. Pass YOUR Competition on the HighSide.