FOR IMMEDIATE RELEASE:
Angie Smith to Face MSR Teammate Ray in NHRA Finals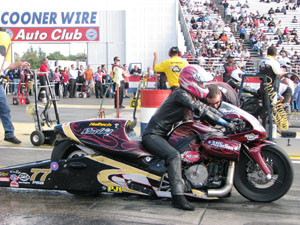 Contact:
Brandon W. Mudd
636.219.9676
PR@HighSideMedia.com

Pomona, Calif. –
With her future as an NHRA Full Throttle Series Pro Stock Motorcycle rider uncertain, Angie Smith did exactly what she had to do Saturday at Auto Club Raceway. The 6.902 second ET the North Carolina native ran in the third round of qualifying was good enough to put her in the ninth position for Sunday's Auto Club NHRA Finals. That run was also good enough for third-quick of the round, earning her a bonus point.
There is some bad news, however, as she must face her Matt Smith Racing teammate, Michael Ray, who qualified eighth with an ET of 6.900. Regardless of who gets the win light, Angie said she will be fine with it, although earning her first-career victory at the final race of the 2011 season would end an up-and-down season on a very high note.
"Well, I do have to face my teammate, but I'm just happy we made a good lap this morning," she said after the final round of qualifying Saturday. "Michael did a good job and I did a good job in Q3. We're just going to go out there tomorrow and have fun and put on a show for everybody and may the best person win. There'll be no hard feelings after this one. He's a great competitor and if you want anybody to win, you want your teammate to win."
Her work doesn't end Sunday, however. Her husband/team owner/tuner Matt Smith is racing for the third overall position in the final class points and can finish no lower than fourth, so the couple will be in attendance for Monday's NHRA banquet. After that, it's time to look for funding for 2012.
"It's the final race of the year," Angie said. "After tomorrow, we get to get dressed up for the banquet and have some fun. The pressure will be off and we'll just continue to look for sponsorship for next year."
Former three-time PSM champion Andrew Hines finished the weekend as top qualifier after being fastest at the end of all three days of qualifying. His 6.820 second ET rocketed him to the pole in the final round of qualifying. Pro Stock Motorcycle and Pro Stock were able to complete their fourth round of qualifying, but the event was shut down in the midst of Funny Car quals due to inclement weather.
The Smiths Pose for Charity
: Angie and Matt are featured in Tony Pedregon's NHRA Full Throttle Series Real Families calendar to benefit children's cancer research. For more information, click
HERE
.
Angie and Matt Smith Racing are entered in the Auto Club NHRA World Finals this weekend in Pomona. Sunday's pre-race ceremonies begin at 9:45 a.m. with first round of eliminations running at 11. For tickets, click
HERE
.
Fans of Angie Smith can find updates and photos of Matt Smith Racing at MattSmithRacing.com, Facebook.com/Matt.AngieSmith, and Twitter.com/AngieSmith77. Videos of Angie and Matt Smith Racing can be found at YouTube.com/MattSmithNHRA. For information regarding sponsorship opportunities with Matt Smith Racing, please e-mail
MattSmithRacing@yahoo.com
.
For more information on HighSide Media, its programs, and its clients, visit HighSideMedia.com. You can also follow HSM at Twitter.com/HighSideMedia and on its official page on Facebook.
-HSM-
About HighSide Media
Founded in 2007, HighSide Media has represented some of the top drivers, teams, facilities, sponsors, and sanctions in American motorsports. HighSide Media provides public and media relations for racers at every level with tailor-made programs for every budget. Pass YOUR Competition on the HighSide.