FOR IMMEDIATE RELEASE:
Take 2: PSCA Returns to Auto Club Dragway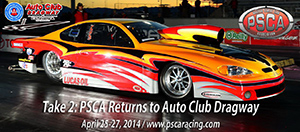 Contact:
Brandon W. Mudd
BWMudd@gmail.com
636-219-9676
LAS VEGAS –
After inclement weather ruined the Pacific Street Car Association's first attempted return to the Auto Club Dragway in two years, PSCA is finally racing in Fontana this weekend
.
"We are thrilled to return to Fontana and were bummed that the rain kept us away last time," said PSCA President Mel Roth. "This track is a staple of Southern California drag racing and we are so glad to be back and racing."
With the points battle in every class tight heading into the third race of the 2014 season, fans can expect to see some of the best racing in the sanction's history in the PSCA's visit to SoCal. For an added thrill, the Grudge Lane will be open all weekend, allowing racers to settle beefs with other drivers on the track.

Also, both of PSCA's Jr. Dragster classes are competing this weekend, the first time they have competed at Fontana under the umbrella of the sanction.

For more info on the PSCA's much-anticipated return to Fontana such as scheduling details, click HERE.
Fans of the Pacific Street Car Association can find updates and photos of PSCA racers and events by checking out PSCARacing.com, Twitter.com/PSCARacing, and Facebook.com/PSCARacing. Videos of PSCA drag racing action can be found at YouTube.com/PSCARacing.
Racers and fans can also visit the PSCA's official page on
Facebook
to find photos, stories, and videos of the best drag racing in the country.
PSCA Merchandise:
Give the gift of drag racing with PSCA swag from our online store. Click
HERE
for shirts and everything else the racer in your family wants.
-PSCA-
About the Pacific Street Car Association:
In its 15th season, the Pacific Street Car Association, based in Las Vegas, has been a staple of West Coast drag racing since its inception. With six heads-up classes, four bracket classes, and two index classes, the PSCA provides some of the best racing in the country for both fans and racers. The PSCA season is capped off by its Street Car Super Nationals at The Strip at Las Vegas Motor Speedway, now in its tenth year.
About HighSide Media:
Founded in 2007, HighSide Media has represented some of the top drivers, teams, facilities, sponsors, and sanctions in American motorsports. HighSide Media provides public and media relations for racers at every level with tailor-made programs for every budget. Pass YOUR Competition on the HighSide.