FOR IMMEDIATE RELEASE:


PSCA Kicks Off 15

th

Season with NHRA Teams, Grudge Warz in 2 Weeks at Vegas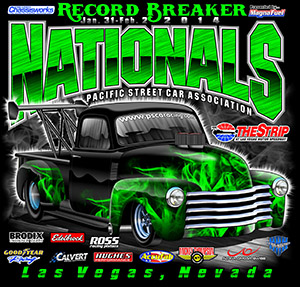 Contact:
Brandon W. Mudd
BWMudd@yahoo.com
636-219-9676
LAS VEGAS – To succeed in drag racing, one must go big or go home. The Pacific Street Car Association has become well-known for doing the former and the kickoff to their 15th season is a perfect example.

The MagnaFuel Record Breaker Nationals Presented by Chris Alston's Chassisworks at The Strip at Las Vegas Motor Speedway Jan. 31-Feb. 2 will not only feature some of NHRA's top teams preparing for the Mello Yello Series' season-opener at Pomona the following weekend (teams TBA), but the debut of PSCA's Grudge Warz.

"Since the Discovery Channel show 'Street Outlaws' has become so popular," PSCA President Mel Roth said, "grudge racing has become even more prevalent. We want to ensure it's kept where it belongs, and that's on the track instead of on the street. At every PSCA race this year, whether it's Vegas, Fontana, or Sacramento, we will have a Grudge Warz feature.
"Grudge Warz is a line-'em-up, first-to-the-finish-line-wins type of race for local racers to settle the score. They can have the clocks on or off, their choice, and it's all done in a safe environment with some of the best drag crews in the sport."
The sanction's most recent Street Car Super Nationals once again broke records and has been so successful over the years, a second one has been announced in August at Gateway Motorsports Park just outside St. Louis.
"With a second SCSN coming on the heels of yet another amazing event here in Vegas, the return of the three-race Rocky Mountain Summer Series, going back to Fontana, and our season kicking off so strong with Grudge Warz and the NHRA drivers testing here," Roth said, "I don't think it's disingenuous to say this could be our best season ever."
Fans of the Pacific Street Car Association can find updates and photos of PSCA racers and events by checking out PSCARacing.com, Twitter.com/PSCARacing, and Facebook.com/PSCARacing. Videos of PSCA drag racing action can be found at YouTube.com/PSCARacing.
Racers and fans can also visit the PSCA's official page on
Facebook
to find photos, stories, and videos of the best drag racing in the country.
PSCA Merchandise:
Give the gift of drag racing with PSCA swag from our online store. Click
HERE
for shirts and everything else the racer in your family wants.
-PSCA-
About the Pacific Street Car Association:
In its 15th season, the Pacific Street Car Association, based in Las Vegas, has been a staple of West Coast drag racing since its inception. With six heads-up classes, four bracket classes, and two index classes, the PSCA provides some of the best racing in the country for both fans and racers. The PSCA season is capped off by its Street Car Super Nationals at The Strip at Las Vegas Motor Speedway, now in its tenth year.
About HighSide Media:
Founded in 2007, HighSide Media has represented some of the top drivers, teams, facilities, sponsors, and sanctions in American motorsports. HighSide Media provides public and media relations for racers at every level with tailor-made programs for every budget. Pass YOUR Competition on the HighSide.