FOR IMMEDIATE RELEASE:

TV's Street Outlaws to Appear at PSCA's Street Car Super Nats IX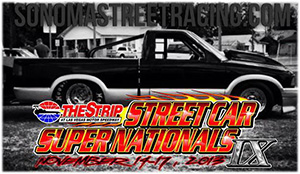 Contact:


Brandon W. Mudd
PR@HighSideMedia.com
636-219-9676
LAS VEGAS – The Pacific Street Car Association's Street Car Super Nationals IX is two weeks away (No. 14-17) and the excitement continues to build. Sanction President Mel Roth announced today that stars of the hit TV Show "Street Outlaws" are appearing at the event along with the show's No. 1 car, "The Sonoma."

"We're very excited to make this announcement," Roth said. "'Street Outlaws' is the kind of show that represents our core audience within the PSCA and the Street Car Super Nationals. Having them here is just another example of how we try to top ourselves every year.
This year's SCSN will feature two Pro Mod classes, including
TheEFIStore.com
Outlaw Pro Mod class, a partnership announced recently.
Another exciting storyline unfolding is the resurgence of the Mickey Thompson Tires Wild Street (275 Drag Radial) class. Last year, the class featured only nine entries, whereas going into this season's event, there is evidence of at least 22-25 cars.
"We've had racers move up from the Outlaw 8.5 class and down from XDR/TT5," Roth said. "Plus, we're going to a new eighth-mile format for 2013."
The Street Car Super Nationals is a three-day drag race that provides non-stop action and excitement from the moment the gates open to the last pair of cars that cross the finish line.
"For an event like this, it takes a lot things to come together to be successful," Roth said. "First and foremost are the racers. This event is built around them and, over the years, they've provided some of the best passes in drag racing. But having off-track attractions like the guys from 'Street Outlaws' here elevates this from a drag race to a can't-miss event. Every year, we try to out-do the year before. We've done it every year so far and we don't plan on resting on our laurels this year."
Fans of the Pacific Street Car Association can find updates and photos of PSCA racers and events by checking out PSCARacing.com, Twitter.com/PSCARacing, and Facebook.com/PSCARacing. Videos of PSCA drag racing action can be found at YouTube.com/PSCARacing.
Racers and fans can also visit the PSCA's official page on Facebook to find photos, stories, and videos of the best drag racing in the country.

Get PSCA Stuff: Represent the Pacific Street Car Association and West Coast drag racing by visiting our online store! The official PSCA store has everything for fans and racers of all ages, including hats, shirts, DVDs, and more at huge discounts. Click HERE to start shopping!
-PSCA-
About the Pacific Street Car Association:
In its 14
th
season, the Pacific Street Car Association, based in Las Vegas, has been a staple of West Coast drag racing since its inception. With six heads-up classes, four bracket classes, and two index classes, the PSCA provides some of the best racing in the country for both fans and racers. The PSCA season is capped off by its Street Car Super Nationals at The Strip at Las Vegas Motor Speedway, now in its ninth year.
About HighSide Media
Founded in 2007, HighSide Media has represented some of the top drivers, teams, facilities, sponsors, and sanctions in American motorsports. HighSide Media provides public and media relations for racers at every level with tailor-made programs for every budget. Pass YOUR Competition on the HighSide.