FOR IMMEDIATE RELEASE:
Happy Holidays From Your Friends at PSCA!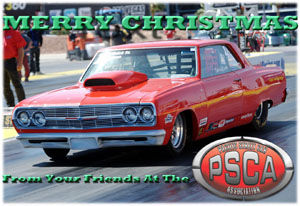 Contact:


Brandon W. Mudd
PR@HighSideMedia.com
636-219-9676

LAS VEGAS --
Pacific Street Car Association President Mel Roth and the PSCA staff would like to wish the fans, racers, sponsors, and media a very Merry Christmas and a Happy New Year! PSCA looks forward to seeing you all at the first event of the sanction's 14th season of competition, the Ford Racing Record Breaker Nationals Feb. 8-10, 2013, at The Strip at Las Vegas Motor Speedway and at the Street Car Super Nationals IX Nov. 14-17, 2013. May you have a peaceful and safe new year!
Looking for some late Christmas gifts?
The official PSCA store has everything for fans and racers of all ages, including hats, shirts, DVDs, and more at huge discounts. Click
HERE
to start shopping!
-PSCA-
About the Pacific Street Car Association:
Entering into its 14
th
season, the Pacific Street Car Association, based in Las Vegas, has been a staple of West Coast drag racing since its inception. With six heads-up classes, four bracket classes, and two index classes, the PSCA provides some of the best racing in the country for both fans and racers. The PSCA season is capped off by its Street Car Super Nationals at The Strip at Las Vegas Motor Speedway, now in its ninth year.
About HighSide Media
Founded in 2007, HighSide Media has represented some of the top drivers, teams, facilities, sponsors, and sanctions in American motorsports. HighSide Media provides public and media relations for racers at every level with tailor-made programs for every budget. Pass YOUR Competition on the HighSide.