FOR IMMEDIATE RELEASE:
Street Car Super Nationals VIII Shaping Up To Be Best Ever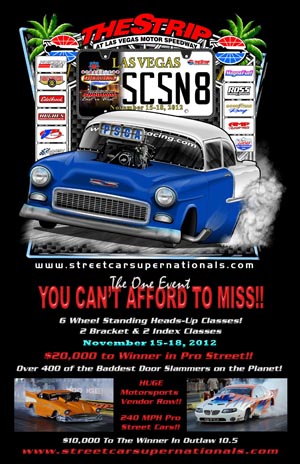 Contact:


Brandon W. Mudd
PR@HighSideMedia.com
636-219-9676

LAS VEGAS --
After some of the top racers in the Pacific Street Car Association invaded the Shakedown in E-Town in Englishtown, N.J., recently, drivers from the East Coast are returning the favor Nov. 14-18 making the Street Car Super Nationals VIII the place to be for drag racers and drag racing fans.
In addition, NHRA Pro Mod stars such as Troy Coughlin, Jay Payne, and Steve Matasek have also confirmed they will participate in the eighth-annual drag racing extravaganza at The Strip at Las Vegas Motor Speedway.
"This is going to be huge!" said PSCA President Mel Roth at the sanction's official booth at this weekend's NHRA Full Throttle Series event at The Strip. "I can't remember when we've seen so much hype around this event. Having our guys go to E-Town and represent the West Coast was a blast and now, having so many East Coast drivers tell us they're coming to Vegas tells me they know where to find great racing and that's with the Pacific Street Car Association."
Street Car Super Nationals is a one-of-a-kind event bringing racers from all across the US and Canada to race for some of the largest cash purses in the sport. Add in another $250,000 in posted contingency and bonus awards and it's a who's who in the staging lanes. Past and current champions from the ADRL, IHRA, NSCA, NHRA Pro Mod, PSCA, Orlando, Shakedown at E-town and many others will be in attendance for this can't-miss event.
Purses include $20,000 to the winner in Pro Street, $10,000 to the winner in Outlaw 10.5, and $5,000.00 to the winner in XDR/TT-5. All told, the event will see more than 40 Pro Street/Pro Mods, 32 Outlaw 10.5's, and another 250+ of the baddest hot rods on the planet in addition to the Lucas Oil Car Show Series.
For more information on the eighth annual Street Car Super Nationals Nov. 14-18 at The Strip at Las Vegas Motor Speedway, go to StreetCarSuperNationals.com or visit the official page on Facebook at Facebook.com/StreetCarSuperNationals. Fans can also visit LVMS.com or go to their official page on Facebook at Facebook.com/TheStripAtLVMS.
Fans of the Pacific Street Car Association can find updates and photos of PSCA racers and events by checking out PSCARacing.com, Twitter.com/PSCARacing, and Facebook.com/PSCARacing. Videos of PSCA drag racing action can be found at YouTube.com/PSCARacing.
Racers and fans can also visit the PSCA's official page on
Facebook
to find photos, stories, and videos of the best drag racing in the country!
Get PSCA Stuff:
Represent the Pacific Street Car Association and West Coast drag racing by visiting our online store! The official PSCA store has everything for fans and racers of all ages, including hats, shirts, DVDs, and more at huge discounts. Click
HERE
to start shopping!
-PSCA-
About the Pacific Street Car Association:
Entering into its 13
th
season, the Pacific Street Car Association, based in Las Vegas, has been a staple of West Coast drag racing since its inception. With seven heads-up classes, four bracket classes, and three index classes, the PSCA provides some of the best racing in the country for both fans and racers. The PSCA season is capped off by its Street Car Super Nationals at The Strip at Las Vegas Motor Speedway, now in its eighth year.
About HighSide Media
Founded in 2007, HighSide Media has represented some of the top drivers, teams, facilities, sponsors, and sanctions in American motorsports. HighSide Media provides public and media relations for racers at every level with tailor-made programs for every budget. Pass YOUR Competition on the HighSide.