FOR IMMEDIATE RELEASE:
Mickey Thompson Providing Free Tires to No. 1 PSCA Qualifiers at Bandimere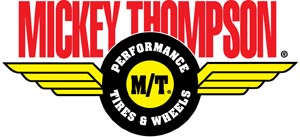 Contact:


Brandon W. Mudd
PR@HighSideMedia.com
636-219-9676

LAS VEGAS --
Being the No. 1 qualifier in a drag race theoretically gives a racer an advantage during eliminations because, on paper at least, the opponent doesn't have as strong a car. Mickey Thompson wants to give top qualifiers a DEFINITE advantage on the line at the Super Chevy Show at Bandimere Speedway Aug. 17-18 by awarding a new set of drive tires to the pole sitters in the Pacific Street Car Association classes.
"PSCA's Hot Street and Outlaw 10.5 racers are not only battling for supremacy at Bandimere in eliminations," sanction president Mel Roth said, "they're also fighting for a set of rear tires for the top qualifier. Every drag racer out there knows the value of free equipment, especially when it comes to the quality product Mickey Thompson brings to the track. I have a feeling qualifying will be very interesting at Super Chevy."
Roth went on to say work continues in the effort to bring a full-blown PSCA or Street Car Super Nationals event to the Denver area. "(Mickey Thompson Tires Director of Motosports) Tom Kundrik sees the value of bringing an event to the region," Roth said. "He wants his company involved in a Colorado race just like they've been involved with PSCA races since our early days."
For more information on Bandimere Speedway and its events, visit them on the Web at
www.Bandimere.com
. Super Chevy fans can check them out at
www.SuperChevyShow.com
.
PSCA marketing sponsors participating in the Super Chevy Show at Bandimere Speedway include MagnaFuel, Chris Alston's Chassisworks, Hot Rods & Horsepower, Sarmientos Trucking, Hughes Performance & Fisher Trucking, Mickey Thompson Tires, H.A. Specialties, Santa Fe Sand & Gravel, Lucas Oil, HOM, Edelbrock, Alpha Omega Swiss, Precision Designs, Strube's Performance, B & A Automotive, On Track Performance & AC Transmission.
Fans of the Pacific Street Car Association can find updates and photos of PSCA racers and events by checking out PSCARacing.com, Twitter.com/PSCARacing, and Facebook.com/PSCARacing. Videos of PSCA drag racing action can be found at YouTube.com/PSCARacing.
Racers and fans can also visit the PSCA's official page on
Facebook
to find photos, stories, and videos of the best drag racing in the country!
Get PSCA Stuff:
Represent the Pacific Street Car Association and West Coast drag racing by visiting our online store! The official PSCA store has everything for fans and racers of all ages, including hats, shirts, DVDs, and more at huge discounts. Click
HERE
to start shopping!
-PSCA-
About the Pacific Street Car Association:
Entering into its 13
th
season, the Pacific Street Car Association, based in Las Vegas, has been a staple of West Coast drag racing since its inception. With seven heads-up classes, four bracket classes, and three index classes, the PSCA provides some of the best racing in the country for both fans and racers. The PSCA season is capped off by its Street Car Super Nationals at The Strip at Las Vegas Motor Speedway, now in its eighth year.
About HighSide Media
Founded in 2007, HighSide Media has represented some of the top drivers, teams, facilities, sponsors, and sanctions in American motorsports. HighSide Media provides public and media relations for racers at every level with tailor-made programs for every budget. Pass YOUR Competition on the HighSide.