FOR IMMEDIATE RELEASE:
PSCA Offering 2-For-1 Tickets for MagnaFuel Las Vegas Nationals This Weekend at The Strip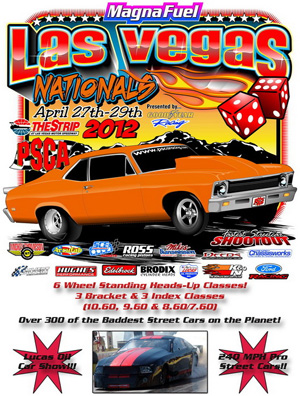 Contact:
Brandon W. Mudd
PR@HighSideMedia.com
636-219-9676

LAS VEGAS --
The Pacific Street Car Association returns to action this weekend at The Strip at Las Vegas Motor Speedway for the MagnaFuels Las Vegas Nationals. As if PSCA fans needed more incentive than the hot doorslammer action in the desert to attend, the premiere Western drag racing series is offering 2-for-1 tickets.
Just click
HERE
, print the coupon and fill it out, and then redeem it at the LVMS spectator ticket booth at the entrance of the drag strip.
"We not only want to reward our fans for coming out to see some of the best drag racing in the country," said PSCA President Mel Roth, "we wanted to provide an incentive for some straightline newbies to come out and see why drag racing is the most exciting form of motorsports there is."
In addition to the regular PSCA classes, two Jr. Dragster classes (8-12 year old and 13-18 year old) are scheduled to participate in all 2012 PSCA shows. The Jr. Dragsters will race prior to and after the other PSCA classes at each event and will be scheduled as not to affect the flow of the other PSCA classes. Both classes will compete for race trophies and prizes. Jr. Dragster racers will also compete for event points that will be counted toward a class champion at the end of the season.
Finally, making its debut for the 2012 PSCA season is the Lucas Oil Top Comp class, intended for NHRA-approved cars that run sub 8.60 ETs.
For more information on the MagnaFuel Las Vegas Nationals at The Strip at Las Vegas Motor Speedway, visit LVMS.com or go to their official page on Facebook at Facebook.com/TheStripAtLVMS.
Fans of the Pacific Street Car Association can find updates and photos of PSCA racers and events by checking out PSCARacing.com, Twitter.com/PSCARacing, and Facebook.com/PSCARacing. Videos of PSCA drag racing action can be found at YouTube.com/PSCARacing.
Racers can visit the PSCA's official page on
Facebook
to find the 2012 class rules.
Get PSCA Stuff:
Represent the Pacific Street Car Association and West Coast drag racing by visiting our online store! The official PSCA store has everything for fans and racers of all ages, including hats, shirts, DVDs, and more at huge discounts. Click
HERE
to start shopping!
-PSCA-
About the Pacific Street Car Association:
Entering into its 13
th
season, the Pacific Street Car Association, based in Las Vegas, has been a staple of West Coast drag racing since its inception. With seven heads-up classes, four bracket classes, and three index classes, the PSCA provides some of the best racing in the country for both fans and racers. The PSCA season is capped off by its Street Car Super Nationals at The Strip at Las Vegas Motor Speedway, now in its eighth year.
About HighSide Media
Founded in 2007, HighSide Media has represented some of the top drivers, teams, facilities, sponsors, and sanctions in American motorsports. HighSide Media provides public and media relations for racers at every level with tailor-made programs for every budget. Pass YOUR Competition on the HighSide.