FOR IMMEDIATE RELEASE:
PSCA '11 Rain Out at Fontana Officially Canceled, Double Payout at Next Vegas Event For Fontana Entrants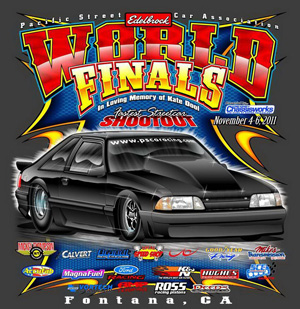 Contact:
Brandon W. Mudd
PR@HighSideMedia.com
636-219-9676

LAS VEGAS --
The Pacific Street Car Association announced today the sanction's Edelbrock's World Finals that was rained out Nov. 6, 2011, has been officially canceled and will not be rescheduled. The event was planned to be run March 9-11 this year at Auto Club Dragway in Fontana, Calif., but was canceled due to the track being closed.
With the books now closed on the 2011 PSCA season, the points for last year's classes will be made official in the coming days. The awards banquet for the 2011 season is scheduled for Saturday, Sept. 8, during that weekend's race at The Strip at Las Vegas Motor Speedway. More details regarding the banquet will be released in the coming weeks.
PSCA President Mel Roth was reluctant to cancel the event, but according to sanction rules, a rain out date must be made up at the track in which the cancelation occurred and with the unknown status of Auto Club Dragway, he made the decision to move on.
"We never want to have to make this kind of call," Roth said. "We want to give our racers the opportunity to race as much as possible but we were running out of time to make up the Fontana race. Plus, we want to get our champions crowned. They earned that honor and deserve to be recognized."
Racers who were registered for the World Finals last year still have an opportunity to profit from that race, however. "Any driver who was registered in Fontana last November, comes to the MagnaFuel Las Vegas Nationals at The Strip April 27-29, and finishes in the money will see their purse doubled," Roth said. "Hopefully, it's an additional incentive for the racers and lets them know we're here to help them as much as we can."
The next PSCA event, the MagnaFuel Las Vegas Nationals, is scheduled for April 27-29 at The Strip at Las Vegas Motor Speedway. For information on this and other LVMS events, visit LVMS.com or go to their official page on Facebook at Facebook.com/TheStripAtLVMS.
Fans of the Pacific Street Car Association can find updates and photos of PSCA racers and events by checking out PSCARacing.com, Twitter.com/PSCARacing, and Facebook.com/PSCARacing. Videos of PSCA drag racing action can be found at YouTube.com/PSCARacing.
Racers can visit the PSCA's official page on
Facebook
to find the 2012 class rules.
Get PSCA Stuff:
Represent the Pacific Street Car Association and West Coast drag racing by visiting our online store! The official PSCA store has everything for fans and racers of all ages, including hats, shirts, DVDs, and more at huge discounts. Click
HERE
to start shopping!
-PSCA-
About the Pacific Street Car Association:
Entering into its 13
th
season, the Pacific Street Car Association, based in Las Vegas, has been a staple of West Coast drag racing since its inception. With seven heads-up classes, four bracket classes, and three index classes, the PSCA provides some of the best racing in the country for both fans and racers. The PSCA season is capped off by its Street Car Super Nationals at The Strip at Las Vegas Motor Speedway, now in its eighth year.
About HighSide Media
Founded in 2007, HighSide Media has represented some of the top drivers, teams, facilities, sponsors, and sanctions in American motorsports. HighSide Media provides public and media relations for racers at every level with tailor-made programs for every budget. Pass YOUR Competition on the HighSide.