FOR IMMEDIATE RELEASE:
PSCA Sept. Event at Fontana Moved to Vegas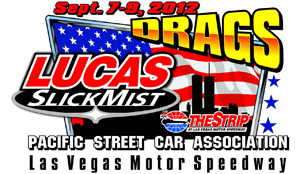 Contact:
Brandon W. Mudd
PR@HighSideMedia.com
636-219-9676

LAS VEGAS --
With the future of the Auto Club Dragway in Fontana, Calif., up in the air and one Pacific Street Car Association event there already canceled, the decision has been made to move the Lucas Oil/Slick Mist Drags originally scheduled for Fontana to The Strip at Las Vegas Motor Speedway Sept. 7-9. All PSCA classes, including Lucas Oil Top Comp and Jr. Dragster, will be contested at the event.
Mel Roth, PSCA president, worked with Las Vegas Motor Speedway Vice President of Racing Operations Chris Blair to ensure participants in the West Coast's premiere drag racing series would have a place to compete.
"Once again," Roth said, "we are indebted to Chris Blair and his staff at The Strip. We are doing everything possible to relocate any events loss due to the unfortunate situation at Fontana and once again would like to thank Chris for stepping up and giving PSCA racers a place to race."
"The loss of both the Fontana and Irwindale drag strips is a tough blow to our racing family," Blair said. "We hope that by working with the various groups that supported these tracks during this difficult time, we can keep more racers interested in the sport until all of the issues are resolved and things are back to normal.
"The addition of the September event places a PSCA event between our TRE Bracket Series/So-Cal Pro Gas event of Labor Day weekend and our Super Chevy event of Sept. 15-16. Racers will have the opportunity to leave their rigs here at LVMS and get three great weekends of racing without the expense of towing their rigs back-and-forth."
The Strip is host to the next event on the PSCA calendar April 27-29. For more information on Las Vegas Motor Speedway and its events, visit their Web site at LVMS.com or on Facebook at Facebook.com/TheStripAtLVMS.
Fans of the Pacific Street Car Association can find updates and photos of PSCA racers and events by checking out PSCARacing.com, Twitter.com/PSCARacing, and Facebook.com/PSCARacing. Videos of PSCA drag racing action can be found at YouTube.com/PSCARacing.
Racers can visit the PSCA's official page on
Facebook
to find the 2012 class rules.
Get PSCA Stuff:
Represent the Pacific Street Car Association and West Coast drag racing by visiting our online store! The official PSCA store has everything for fans and racers of all ages, including hats, shirts, DVDs, and more at huge discounts. Click
HERE
to start shopping!
-PSCA-
About the Pacific Street Car Association:
Entering into its 13
th
season, the Pacific Street Car Association, based in Las Vegas, has been a staple of West Coast drag racing since its inception. With seven heads-up classes, four bracket classes, and three index classes, the PSCA provides some of the best racing in the country for both fans and racers. The PSCA season is capped off by its Street Car Super Nationals at The Strip at Las Vegas Motor Speedway, now in its eighth year.
About HighSide Media
Founded in 2007, HighSide Media has represented some of the top drivers, teams, facilities, sponsors, and sanctions in American motorsports. HighSide Media provides public and media relations for racers at every level with tailor-made programs for every budget. Pass YOUR Competition on the HighSide.