FOR IMMEDIATE RELEASE:
Fun Ford Weekend at The Strip to Include PSCA Classes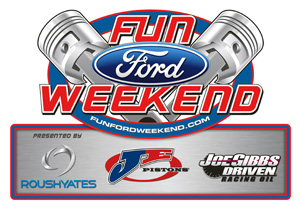 Contact:
Brandon W. Mudd
PR@HighSideMedia.com
636-219-9676

LAS VEGAS --
Five Pacific Street Car Association classes will be included in the Fun Ford Weekend event at The Strip at Las Vegas Motor Speedway April 20-22 it was announced today.
The following classes will represent PSCA and will earn points that will be counted towards the 2012 championship:
Hughes Performance Pro Street
MagnaFuel XDR/TT5
Ross Racing Pistons Outlaw 8.5
Goodyear Racing Open Comp
Ford Racing Mustang Maddness
"The PSCA classes that we are adding are a perfect fit for Fun Ford Weekend,' said Chris Blair, Las Vegas Motor Speedway Vice President of Racing Operations."This will make the show even more exciting for our Ford enthusiasts."
The event, one week ahead of the next official PSCA race at The Strip April 27-29, will provide racers in the aforementioned classes the opportunity to race as well as save travel money thanks to the cooperation of Blair and his staff.
"By making the Fun Ford Weekend part of the PSCA Series, it will help the Southern California racers who are currently dealing with the loss of their home tracks," Blair said. "This will enable them to race with us, leave their rigs here at LVMS and return the following weekend for PSCA. This should dramatically reduce travel costs."
PSCA President Mel Roth said the event is a welcome addition to the schedule, especially with the races at Auto Club Dragway in Fontana, Calif., currently in limbo.
"Racers race. It's that simple and we can't thank Chris Blair and Las Vegas Motor Speedway enough for their generosity. The folks there understand this sport and they know how important it is to our racers and the fans. PSCA will get to be a part of a unique event and fans of the Ford Fun Weekend will get to see some of our top drivers in action. It's a win-win."
Fans of the Pacific Street Car Association can find updates and photos of PSCA racers and events by checking out PSCARacing.com, Twitter.com/PSCARacing, and Facebook.com/PSCARacing. Videos of PSCA drag racing action can be found at YouTube.com/PSCARacing.
Racers can visit the PSCA's official page on
Facebook
to find the 2012 class rules.
Get PSCA Stuff:
Represent the Pacific Street Car Association and West Coast drag racing by visiting our online store! The official PSCA store has everything for fans and racers of all ages, including hats, shirts, DVDs, and more at huge discounts. Click
HERE
to start shopping!
-PSCA-
About the Pacific Street Car Association:
Entering into its 13
th
season, the Pacific Street Car Association, based in Las Vegas, has been a staple of West Coast drag racing since its inception. With seven heads-up classes, four bracket classes, and three index classes, the PSCA provides some of the best racing in the country for both fans and racers. The PSCA season is capped off by its Street Car Super Nationals at The Strip at Las Vegas Motor Speedway, now in its eighth year.
About HighSide Media
Founded in 2007, HighSide Media has represented some of the top drivers, teams, facilities, sponsors, and sanctions in American motorsports. HighSide Media provides public and media relations for racers at every level with tailor-made programs for every budget. Pass YOUR Competition on the HighSide.