FOR IMMEDIATE RELEASE:
PSCA Record Breaker Nats Live Up To Its Name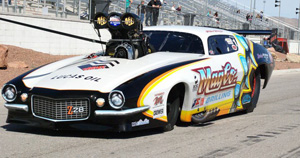 Contact:
Brandon W. Mudd
PR@HighSideMedia.com
636-219-9676

LAS VEGAS --
The Pacific Street Car Association's 2012 season opener, the Record Breaker Nationals held at The Strip at Las Vegas Motor Speedway, lived up to its name with ET and speed records falling in four different classes.
To qualify for an official record, the driver must back up his/her record within one percent, on the previous or following pass, at the same event. The car must also have passed the minimum weight requirements and a new technical inspection (after the record-setting pass). Establishing a new record will give the driver bonus points (10pts ET - 10pts mph). The driver who has the record at the end of the event will receive the bonus points.
The following class records were set at The Strip:
Hughes Performance Pro Street: Mike Maggio, 5.937 second ET, 245.85 mph.
MagnaFuel X-Treeme Drag Radial/TT-5 (eighth-mile): Rich Hoyle, 4.724 second ET, Al Jimenez, 155.13 mph
Ross Racing Pistons Outlaw 8.5 (eighth-mile): DJ Reid, 5.220 second ET, 141.74 mph.
Mickey Thompson Tires Wild Street: Kevin Young, 7.599 second ET, 190.14 mph.
"We couldn't have asked for better conditions," said PSCA President Mel Roth. "Between the weather and the amazing track prep by Chris Blair and his crew at The Strip, our drivers know every time they race in Las Vegas, they have a chance to make the run of a lifetime. We can't wait to come back for our next event April 27-29."
Fans of the Pacific Street Car Association can find updates and photos of PSCA racers and events by checking out PSCARacing.com, Twitter.com/PSCARacing, and Facebook.com/PSCARacing. Videos of PSCA drag racing action can be found at YouTube.com/PSCARacing.
Racers can visit the PSCA's official page on
Facebook
to find the 2012 class rules.
Get PSCA Stuff:
Represent the Pacific Street Car Association and West Coast drag racing by visiting our online store! The official PSCA store has everything for fans and racers of all ages, including hats, shirts, DVDs, and more at huge discounts. Click
HERE
to start shopping!
-PSCA-
About the Pacific Street Car Association:
Entering into its 13
th
season, the Pacific Street Car Association, based in Las Vegas, has been a staple of West Coast drag racing since its inception. With seven heads-up classes, four bracket classes, and three index classes, the PSCA provides some of the best racing in the country for both fans and racers. The PSCA season is capped off by its Street Car Super Nationals at The Strip at Las Vegas Motor Speedway, now in its eighth year.
About HighSide Media
Founded in 2007, HighSide Media has represented some of the top drivers, teams, facilities, sponsors, and sanctions in American motorsports. HighSide Media provides public and media relations for racers at every level with tailor-made programs for every budget. Pass YOUR Competition on the HighSide.