Mother Nature Takes Top Qualifier Friday at 4-Wide
Mother Nature Takes Top Qualifier Friday at 4-Wide
Brandon Mudd
High Side Media
Zizzo Racing
April 19, 2013

FOR IMMEDIATE RELEASE:

CONTACT:
Brandon W. Mudd
PR@HighSideMedia.com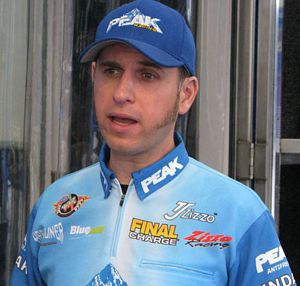 (TJ Zizzo talks to the PEAK Motor Oil team Friday morning. Photo by Brandon W. Mudd)
Concord, N.C. – PEAK Motor Oil Top Fuel dragster pilot TJ Zizzo was really looking forward to his first 4-Wide experience at Bruton Smith's Bellagio of Drag Strip zMAX Dragway.
After Friday' rains, Zizzo is STILL really looking forward to his first 4-Wide experience.
After a couple runs by the NHRA Mello Yello Series Pro Stock class, the skies opened up, forcing the cancellation of the remaining schedule for Friday and preventing Zizzo from getting experience in, what is for him, a new format.
"It's all good," he said, watching the rain fall from the PEAK Motor Oil pit area. "No one else got any runs in either, so it's an even playing field. We are feeling good about this weekend. We've talked to Tony Schumacher and Tim Wilkerson and those guys and they've given us some great pointers."
The rain at the track isn't the only weather-driven headache for the veteran drag racer. His home, along with that of his dad, team owner Tony Zizzo, is being threatened by rain and flood waters in the Chicago area. Members of Zizzo Racing arrived early Friday morning due to traffic delays out of O'Hare Airport.
"We're ready for some sunshine and dry weather," he said. "We love our farmers and we're glad we're getting last year's drought taken care of, but it's time for some racing and we can't do that in the rain."
TJ in the Media: TJ will be a guest on KMOX radio Saturday, talking to Greg Damon about this weekend's 4-Wide Nationals. He is scheduled for 5:40 p.m. EDT and fans can listen live via online streaming by clicking HERE.
Fans of TJ Zizzo and Zizzo Racing can find updates and photos of the PEAK/Herculiner Top Fuel team by checking out ZizzoRacing.com, Instagram.com/ZizzoPEAK, Twitter.com/TJZizzo, and Facebook.com/TJZizzo.
Zizzo Racing and the PEAK Motor Oil Top Fuel dragster is racing at the 4th Annual Dollar General 4-Wide Nationals at the Bellagio of Drag Strips, zMAX Dragway in Concord, NC this weekend. Nitro qualifying begins Saturday at 1 p.m. Saturday. Eliminations are scheduled to begin at Noon Sunday. For tickets, click HERE.
-ZR-
About Zizzo Racing:
Zizzo Racing has been involved in drag racing at the top levels for more than 30 years. Based in Lincolnshire, Ill. and owned by Tony Zizzo, the team started racing in 1980 in the Top Alcohol Dragster class, moving to nitro with TJ in 2004 after earning his class license. In 2007, TJ Zizzo finished second in the final IHRA standings and now competes on a part-time basis in the NHRA Full Throttle Series.
About PEAK/Old World Industries:
PEAK® Performance Products are marketed and distributed by Old World Industries, which is among the largest privately held companies competing in the automotive aftermarket. The Northbrook, Illinois based company enjoys a presence in the automotive product markets, energy exploration, and chemical manufacturing in more than 50 countries worldwide. Old World's Product offering includes PEAK® Antifreeze; PEAK® Windshield Wash and Wiper Blades; PEAK® Performance Motor Oil; a full line of PEAK® Electronics; HERCULINER® Truck Bed Liner Kits; and SIERRA®, the safer antifreeze. For more information, please visit www.peakauto.com.
Connect with The Crittenden Automotive Library