Looooong Term Test: 2010 Mazda CX-7 iSport

Opinions expressed by Bill Crittenden are not official policies or positions of The Crittenden Automotive Library. You can read more about the Library's goals, mission, policies, and operations on the About Us page.
Looooong Term Test: 2010 Mazda CX-7 iSport
Bill Crittenden
February 14, 2015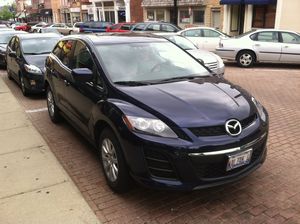 Our Mazda on the historic streets of the old Woodstock Square.
Thanks to Geoff Maxted for reminding me that sometimes we're so close so something that we don't even think about it anymore: Citroen C1, The. A Long Term Review.
That would be my as-yet
unreviewed
2010 Mazda CX-7 my family picked up a few years ago. Seems a bit late since the CX-7 was replaced by the CX-5, but then there are plenty of them still on the used car market, so a review is still useful.
In August 2012 I put in writing the story of how we came to buy Aeris, our pretty little FWD Stormy Blue CX-7, where I mentioned that it had plenty of rear seat headroom and felt like a conventional car station wagon jacked up on big wheels. And, of course, the handling.
So how has it aged 25,000 miles and 2½ years later?
Style-wise, it's even older now. Despite a slight facelift for the 2010 model year it's been around since 2008, but the aggressive styling for the class still stands out. Heck, it
really
stands out in a class dominated by the upright silhouettes of the Ford Escape and Honda CR-V. The CX-7 is long, low, and sleek, shaped more like a small station wagon on 17" rims than a mini SUV. The CX-5 that replaced it is more conventional in this way, making the 7 even more of a standout in the class.
I've seen a few pictures of lowered CX-7's, and they look just awesome. The proportions of the bigger wheels and the curvy wagon body pull off a look that many Accord wagon owners have tried but never succeeded as well as the Mazda does.
We've been through two hand a half winters and a few summers with it, and it's been fantastic. First of all: seat heaters! Why don't all cars have these? They're not as fancy as the three-setting heated and cooled seats you get in the new Hyundai Azera, but having an on/off switch and some heat is just a necessity living northwest of Chicago, a city lovingly called Chiberia by its inhabitants in winter.
Even in front wheel drive we haven't had any trouble with northern Illinois winters. You have to be careful, you can't toss it around in the snow like an Impreza, but it'll get you where you need to go. The traction control works well, but sometimes there's some side-to-side shifting when it's searching for grip on
really
slick surfaces like packed snow or black ice. But, unless you're trying to drive uphill on ice, it will get you moving.
Those seats I mentioned are pretty firm, which need to be supportive with a sporty Mazda suspension that invites quicker changes of direction and faster cornering than one would normally do in a crossover. The downside? The combination of stiff suspension, stiff seat, and Illinois potholes is
not
good when one's bladder is filling up. I've never experienced that level of discomfort before, and I've had to be careful to make sure I go before I go, you know?
But as I like to say, if you're reaching that far to find a drawback, you're doing pretty damn good.
As I mentioned the handling, I'll say now that this crossover holds the road better, corners more predictably, and offers better feedback than a heck of a lot of cars I've driven. The four cylinder non-turbo base engine is a little short on power for getting off the line, but the AWD turbo four requires premium gas. So its handling is fitting for a company staffed by road racing enthusiasts, and not drag racing fans.
Next to the seat is the shifter for the automatic transmission with manual shift mode. Having driven a few Hyundais recently for contrast, I find it a little awkward to push the shifter forward to shift up. I like pulling it back to up shift, reminiscent of that satisfying yank back from first to second or third to fourth in an actual manual car. The positioning is perfect, too, right next to the right leg and with a tall shifter knob that's easy to grab quickly after taking the right hand off the wheel.
The wagon back was a bit of a downgrade from the minivan we traded in, but is plenty adequate for average family use. It'll haul the groceries and bags just fine but has a hard time with non-folding chairs. Of course you can get a bigger box but then you're going to have to haul around that usually empty box with you everywhere you go. Which is one of the reasons we got rid of that minivan.
I mentioned in 2012 that the engine bay was big enough to see some asphalt through it like the old days when there was space to work with under hoods. Well, that was at the back of the engine. Maintenance is a bit of a pain for the garage mechanic because of the big plastic skid plate at the front of the engine that has to be removed to change the oil filter. And it has to come all the way off, too. You can reach the filter removing it halfway, but you're just gonna get dirty oil all over it and everywhere it parks for a few days afterward. This isn't a problem if you've got the car on a lift, but working in a home garage crawling on the floor with the car on ramps, it's annoying.
But then I do recall my Pontiac having a similar plastic skid plate once. It's not a problem anymore, if you know what I mean.
This particular CX-7 has been good for Mazda sales already, inspiring my wife's cousin to get a 6, and then the cousin's mother loved the 6 and got a 3 for herself. Pretty good for Mazda to go from a brand not even on our shopping list in 2012 to a driveway full of them in two and a half years' time.
So of course I'd recommend it. Of course, as is my standard disclaimer it won't be all things to all people. Assuming you're already looking in the small crossover segment and the CX-7 is in your price range, it's best for the style conscious sort of person who enjoys driving a little aggressively at times and isn't looking for a soft, plush ride.
Connect with The Crittenden Automotive Library