Detroit's Next Great Import
Opinions expressed by Bill Crittenden are not official policies or positions of The Crittenden Automotive Library. You can read more about the Library's goals, mission, policies, and operations on the About Us page.
Detroit's Next Great Import
Bill Crittenden
February 20, 2015

The Chrysler 200 bills itself as "Imported from Detroit." I've discovered something even better from the great city, and it may have been literally shaped by the automobile industry.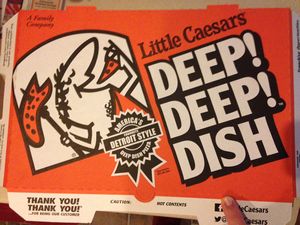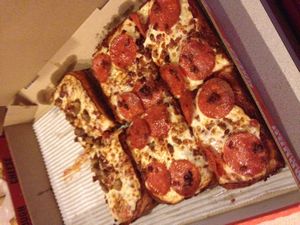 Yes, that really is bacon-wrapped crust.
Detroit is a world class city, a bit down on its luck the last few decades, but it's been so influential to American culture in a lot of ways far less subtle than New York or Los Angeles.
Of course the "Motor City" has been Ground Zero for the American automobile industry and all of its highs and lows have been reflected on the city as well as the country's roadways, but the influence of the automobile industry can be seen in so much else that's come from the city to the rest of the country.
A winged wire automobile wheel adorns the sweaters of the city's legendary Red Wings hockey team (my favorite team) and has done so since 1933. The city was a magnet for musicians, and the shorter Detroit nickname of "Motown" came to adorn one of the greatest and most influential record labels in history starting in 1960. So it's not like Detroit's influences on American culture begin and end in the garage.
I've only actually been to the city once, and I never even got out of the car. So I had never heard the phrase "Detroit-Style Pizza" until I saw it on my Little Caesars pizza box last week.
At first I thought maybe it was a sort of ad line, so I punched it into the Google machine. Which, of course, just took me to Wikipedia:
Detroit-style pizza is a style of pizza developed in Detroit, Michigan. It is a square pizza similar to Sicilian-style pizza that has a thick deep-dish crisp crust and toppings such as pepperoni and olives, and is served with the marinara sauce on top. The square shaped pizza is the result of being baked in a square pan, which is often not a pizza pan. Rather, industrial parts trays are often used, which were originally made to hold small parts in factories.
Yeah, you read that right. Pizza in factory parts trays. It doesn't get much more blue collar hard-working industrial American than that. Sure, Detroit has made lots of different stuff over the years and all sorts of machine parts have been tossed into metal parts trays over the decade, but let's be honest: when someone says "industry" and "Detroit," the image of cars rolling off an assembly line is what comes to mind.
So to me now, the words "Detroit-Style Pizza" evoke the image of an autoworker at lunchtime, the kind of person who has to wash their hands
before
using the restroom, stuffing down something hearty and warm and a little greasy before rushing back out to an assembly line and bolting truck transmissions together. The kind of work that makes a salad completely inadequate for lunch.
Just a year before Motown Records was founded, Michael and Marian Illitch founded the Little Caesars pizza chain in Detroit, so you don't have to go to Detroit to try its pizza thanks to Little Caesars being damn near everywhere. They didn't invent the style, but they're the missionaries in orange aprons spreading it across the country. They don't put the sauce on top, though, probably because it would require too much explaining outside of Detroit (which, oddly enough, they could probably do here since I live near the home turf of Chicago-style pizza which also puts the sauce on top).
Now, I'll admit that anything from Little Caesars is not going to be the most amazing pizza you've ever had, but their pepperoni Deep Deep Dish is two squares of pizza for eight bucks, a good quick meal for when you need to eat quick and get back to work (or when watching a Red Wings game - the Illitches bought the team in the 80's). Which is just perfect, really, because something inspired by pizza made in parts trays shouldn't require a knowledge of French pronounciation or cost fifteen bucks per person.
I'm always interested in seeing just how automobile culture and the automobile industry has affected American life, but I never thought it might have literally shaped our pizzas!
Connect with The Crittenden Automotive Library