Ricky Ehrgott Reflects On Speedway Debut; Focused On Future
Ricky Ehrgott Reflects On Speedway Debut; Focused On Future
Chris Knight
Knight Motorsports Management
October 23, 2012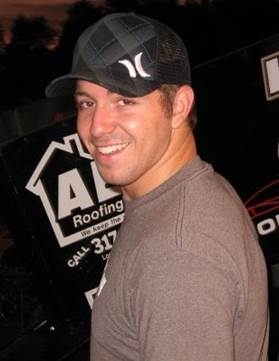 Ricky Ehrgott, driver of the No. 36 Rev1 PowerServices / Precision Tank and Equipment / Sandvik Dodge Charger in the ARCA Racing Series presented by Menards for Allgaier Motorsports.
KANSAS CITY, Kansas (October 23, 2012)
- - Even though Ricky Ehrgott's speedway debut in the ARCA Racing Series presented by Menards didn't turn out as planned, the rookie still turned a lot of heads in his Kansas Speedway debut for Allgaier Motorsports.
Ehrgott and crew chief Kelly Kovski methodically worked on the handling of their No. 36 Rev1 PowerServices / Precision Tank and Equipment / Sandvik Dodge Charger throughout practice and qualifying on Friday at the 1.5-mile racetrack.
Fortunately for the Springfield, Illinois-based team, their car rocketed to life during the Kansas Lottery 98.9 and found themselves roaring in the top-10 only to be sidelined by a tire blowout approaching lap 59.
While the 30th place finish was not an indicator of the team's drive to succeed, the former open-wheel standout is reflecting on what his former ARCA championship team was able to conquer in such a short amount of time.
"It was such a privilege and honor driving for Allgaier Motorsports at Kansas Speedway," said Ehrgott. "From the test to the race, we learned a ton about each other and our No. 36 Rev1 PowerServices / Precision Tank and Equipment / Sandvik Dodge Charger in a short amount of time.
"I was driving a very conservative pace when the tire blew out. I am unsure what the issue was but unfortunately the tire came apart and ended our race prematurely. Usually when there is a tire issue there is some warning that its about to give out but in this instance I had no warning whatsoever. I am disappointed that we weren't able to see the checkered flag but I am focused on the future with such a great operation."
He added, "I think our performance in the race proved to everyone that we were able to live up to the challenge of racing at a new venue that presented so many challenges. Not only was it my first time on a mile-and-a-half track. Kansas was newly repaved; the weather was adverse and unpredictable to say the least. Nonetheless, I feel like that I came out of Kansas with a significant amount of information learned. Just in the pit stop alone, I feel so much more confident and now know what to expect. My spotter (T.J. Majors) was a tremendous asset to me in the race when dealing with the lapped cars. It was as if I had a second set of eyes so that I could focus on hitting my marks while simultaneously get around the lapped cars.
All in all, I am pleased with the progress made last Friday. I think it will be a great segway into the upcoming Daytona International Speedway test in December and the race in February."
The 24-year old knows that the past and his future efforts in racing would not be possible without the special help he's received. "I feel incredibly honored to have represented Rev1 Power Services, Sandvik, and Precision Tank and Equipment this weekend. They went out on a limb in supporting me and I believe that the fruits of our labor showed Friday night. Hopefully there will be many more successful endeavors in the future."
Outside of racing, Ehrgott attends Fordham University at Lincoln Center where he'll graduate in December with a Bachelor's degree in economics. Previously, he attended Purdue University Indianapolis for mechanical engineering.
Become an official fan by joining Ehrgott on Facebook by clicking here.
Ehrgott has joined the Twitter crave. Follow and connect with him @IndyRacer500.
###
DRIVER CONTACT:
NAME: Chris Knight
PHONE: 704.775.2273
EMAIL: chris@chrisknightpr.com
Connect with The Crittenden Automotive Library