Win-Tron Racing Announces Sponsor For Matt Tifft In NASCAR K&N Division
Win-Tron Racing Announces Sponsor For Matt Tifft In NASCAR K&N Division
Chris Knight
Knight Motorsports Management
Win-Tron Racing
March 8, 2013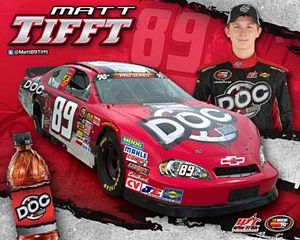 The No. 89 DOC 360 Chevrolet Impala for Win-Tron Racing in the NASCAR K&N Pro Series East (NKPSE) with driver Matt Tifft.
MOORESVILLE, North Carolina (March 8, 2013)
- - Officials from Win-Tron Racing announced today that DOC 360 will partner with NASCAR K&N Pro Series East (NKNPSE) rookie Matt Tifft (@matt89tifft) for the entire 2013 season beginning with next Saturday's Bristol 125 at Bristol (Tenn.) Motor Speedway.
Last month, Win-Tron Racing and the 2012 ARCA Midwest Tour Rookie of the Year, Matt Tifft, officially announced that they would unite and run for the championship with their No. 89 Chevrolet Impala under the leadership of Shane Tesch. The addition of DOC 360 completes the puzzle and allows the team to centrally focus on winning races and ultimately the championship.
"DOC 360 is very excited to partner with Matt Tifft and Win-Tron Racing," said Tim Preston, Director of Business Development for DOC 360. "Matt is a perfect fit for the DOC 360 brand as both are rising stars in their respective business. When you speak to individuals from the racing community, they all speak very highly of Matt as a young man and his future in racing. We feel he will connect well with our core demographics and be a great representative for the DOC 360 brand as we move toward national distribution. Most importantly, we feel the Win-Tron Racing and the DOC 360 partnership can help Matt reach his goal of a NASCAR Sprint Cup Series championship someday."
Tifft, the Hinckley, Ohio native shows equal enthusiasm about the partnership.
"I'm very excited to be representing DOC 360 on the NASCAR K&N Pro Series East Tour this season," he said. "It's great to welcome a new sponsor into Motorsports and I feel the partnership will be very rewarding. We cannot wait to get the season started next weekend at Bristol."
Learn more about DOC 360, by visit: drinkdoc360.com or Facebook/drinkdoc360.
For more on Matt Tifft, please visit MattTifftRacing.com or click on his Facebook page.
Tifft tweets too, follow him @matt89tifft.
About DOC 360:
DOC 360 is owned and manufactured by Wis-Pak, Inc. Wis-Pak is a manufacturer and distributor of Pepsi-Cola and other leading soft drinks. The company's corporate office is located in Watertown, Wisconsin and production facilities are found throughout the Central and Southern United States. Wis-Pak is owned by 39 Shareholders, representing 63 independent Pepsi-Cola franchises. Wis-Pak is majority owner of WP Beverages, which is the seventh largest Pepsi-Cola franchisee in the United States with corporate headquarters in Madison, Wisconsin.
About Win-Tron Racing:
Located in Mooresville, North Carolina, Win-Tron Racing is the home of one the most potent ARCA Racing Series presented by Menards single-car operations. Owned by former racers Kevin Cywinski and Nate Thiesse, the team since has acquired the assets of County Joe Racing has become a favorable fixture on the circuit. Since Win-Tron Racing's inception in 2007, the team has hosted a variety of drivers including leading drivers James Buescher, Blake Bjorklund, Justin Marks, Matt Merrell and Brandon McReynolds to their first career ARCA victories. In 2013, the team will begin its seventh year of competition with a presence in the ARCA Racing Series presented by Menards, the NASCAR K&N Pro Series (East) and the NASCAR Camping World Truck Series.
CONTACT:
NAME: Chris Knight PHONE: 704.775.2273 EMAIL: chris@chrisknightpr.com
Connect with The Crittenden Automotive Library