Brett Hudson Looking To Make More Fond Memories At Salem Speedway
Brett Hudson Looking To Make More Fond Memories At Salem Speedway
Chris Knight
Knight Motorsports Management
Brett Hudson Motorsports
September 13, 2012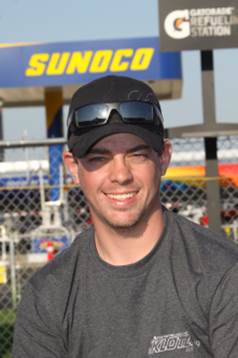 Brett Hudson, driver of the No. 0 Hudson Performance Drivelines Dodge Charger in the ARCA Racing Series presented by Menards for Brett Hudson Motorsports (BHM).
SALEM, Indiana (September 13, 2012)
- - After a pair of 21st place finishes earlier this season at Daytona (Fla.) International Speedway and Talladega (Ala.) Superspeedway, Brett Hudson returns to ARCA Racing Series competition this Saturday night at the intimidating Salem (Ind.) Speedway.
Description: IMG_1637Despite the track's rough characteristics, historically the 0.5-mile paved oval has been kind to the Owensboro, Kentucky native over the year. In fact, Salem is home of Hudson's career-best finish on a short track, fourth tied with his impressive run at Talladega (Ala.) Superspeedway last year. Not to mention, Hudson scored an ARCA pole at the Southern Indiana racetrack in 2005.
While Hudson has had a light season on the ARCA Racing Series tour, the veteran short track racer along with his Brett Hudson Motorsports (BHM) have been zeroing in on this annual fall brawl all with the intentions of putting their No. 0 Hudson Performance Drivelines Dodge Charger into victory lane.
Victory Lane, that's nothing new to Hudson at Salem Speedway. In July, Hudson had an explosive performance in the Firecracker street stock event that landed him a popular victory. Now, the newly crowned father is ready to taste sweet celebration on a whole new level.
"Salem in a sense is a crap-shoot, just like Daytona and Talladega," said Hudson. "It's a place where big things can happen fast but if you're able to avoid the headaches, you usually are able to come out with a pretty good finish. Your car has to rotate well, especially in turns three and four and pit strategy is everything. I'm confident about our chances for Saturday night."
John Hayden, a former ARCA Racing Series racer himself will heed the role as crew chief for Hudson again this weekend. A bonus for the BHM team is Hayden's experience at Salem Speedway which includes a thrilling and emotional ARCA victory in the Spring of 2009 with former ARCA champion Patrick Sheltra.
Speaking of emotional, you'll have to excuse the BHM team if you see a few tears rolling from their eyes. Saturday night will mark the return of gasman Steve Ash who returns to the track for the first time in over a year. Also, Hudson's daughter, Brystal will attend her first ARCA race this weekend.
"We're all about family," stated Hudson. "It's going to be great having my daughter at the race this weekend with my family and of course, the return of Steve (Ash) just pieces the rest of our close-knit family back together. No matter the results on Saturday night, it will be nice to have the old and new members of the BHM family all as one."
To top off that family closeness, the 24-year old knows that his presence at Salem this weekend might not have been possible if not for his Uncle, Donnie Richeson, who's the crew chief for Ken Schrader Racing and driver Tom Hessert.
"My Uncle helped us put the final touches on this car, so I'm very thankful to him. Who knows, maybe we'll be battling his team for the win on Saturday night. That would be pretty special."
As they've done for the past two seasons, the Brett Hudson Motorsports team will bring awareness to a big fan of theirs, Harlie Bryant. Last year, the fellow Kentucky native was diagnosed with brain cancer and continues to fight her battle. The team will continue to spread her message of "hope and love."
In addition to Hudson Performance Drivelines, D-N-J Auto Parts, Double H Hydraulics, Fischer's Keystop Trucking & Towing, G&A Trucking and Warricktubing.com join the team as associate marketing partners in the 18th race of the season.
Additional sponsorship opportunities are still available for this weekend's activities. Interested parties are encouraged to contact Lisa Hudson of Brett Hudson Motorsports at 270.929.2160 or hudson00@adelphia.net.
For more on "Hope for Harlie", please click here to visit their official Facebook page or visit her official website to make a donation towards her ongoing treatment at hopeforharlie.org.
In 28 ARCA Racing Series presented by Menards starts, Hudson has produced three top-fives including a career best of fourth at Salem (Ind.) Speedway in 2007 and Talladega (Ala.) Superspeedway (April 2011) and 13 top-10 finishes overall. Hudson has one career ARCA pole also coming at Salem (Ind.) Speedway in 2005 driving the No. 62 Hudson Machine Shop Chevrolet Monte Carlo.
The Kentuckiana Ford Dealers Fall Classic by Federated Car Care (200 laps / 111 miles) is the 18th of 20 events on the 2012 ARCA Racing Series presented by Menards schedule. The 92nd ARCA race held at Salem Speedway is a one day show. Practice begins Saturday, September 15 with a forty-five minute session planned from 12:30 p.m. - 1:15 p.m. Final practice also consisting of forty-five minutes begins at 1:45 p.m. and will conclude at 2:30 p.m. Menards pole qualifying presented by Ansell is set for later in the day slated to begin at 4:00 p.m. An on-track autograph session has been etched in immediately following qualifying. The event will take the green flag shortly after 7:15 p.m. later that night. The race will not be televised but additional coverage including a radio broadcast and timing and scoring will be available through the ARCA Racing Network (ARN) online at arcaracing.com. All times are local (Eastern).
###
CONTACT:
NAME: Chris Knight (@Knighter01)
PHONE: 704.775.2273
EMAIL: chris@chrisknightpr.com
Connect with The Crittenden Automotive Library