Controversial Call Ruins Strong Performance For Brett Hudson At Daytona
Controversial Call Ruins Strong Performance For Brett Hudson At Daytona
Chris Knight
Knight Motorsports Management
Brett Hudson Motorsports
February 20, 2012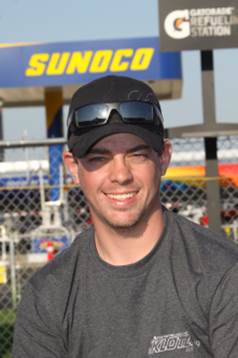 Brett Hudson, driver of the No. 0 Hudson Performance Drivelines Dodge Charger in the ARCA Racing Series presented by Menards for Brett Hudson Motorsports (BHM).
DAYTONA BEACH, Florida (February 20, 2012)
- - Owensboro, Kentucky native Brett Hudson crossed the start-finish line third in Saturday's Lucas Oil Slick Mist 200 at Daytona (Fla.) International Speedway. Unfortunately, a controversial call from the ARCA Racing Series presented by Menards officials regulated the Brett Hudson Motorsports (BHM) team to a 21st place finish.
Description: IMG_1637The finish put a sour taste in the team's mouth after what had been a phenomenal performance by the 24-year old which saw him qualify 15th and with the guidance of his crew chief and superspeedway pro John Hayden calling the shots, Hudson was able to take advantage of the draft and patiently and quietly move himself through the field to find himself sitting eighth in the No.09 Hudson Performance Drivelines Dodge Charger with five laps remaining.
A caution with two laps to go would set-up a green-white-checkered finish which would throw the field into what some described as "controlled chaos." Hudson, considered a short-track ace by many began setting up his game plan to move into the top-five by the white flag but little did he know that all that would go out the window as he exited turn four.
Before he roared towards turn four though, a shot from a behind sent the No.09 Hudson Performance Drivelines Dodge Charger sideways but Hudson with his great throttle response and quick reflexes was able to regain control of his automobile and race on.
Running seventh, the field thundered out of turn four, both leaders nearly simultaneously ran out of gas forcing drivers to take abrasive maneuvers to avoid a collision but it allowed the Chevrolets of Bobby Gerhart and Drew Charlson to make a bold move to the outside to take the checkered flag first and second. With the other cars behind the leaders slowing, Hudson took his No.09 Hudson Performance Drivelines Dodge Charger to the yellow line passing both Steve Blackburn and Will Kimmel. Shortly after the conclusion of the race, ARCA Racing Series officials informed the team that they would be penalized for the move under the "out of bounds" procedure immediately frustrating the family-owned team.
The team tried to protest the call, but to no avail. Hudson would be place at the tail end of the cars on the lead lap. Two other cars including Nelson Canache, who initially finished right behind Hudson would also be penalized for the same infraction. Upon reviewing video footage of the move, Hudson remains stern that he did not violate the rule.
"I looked at every view, every angle and I will admit that my tires were on the yellow line, but we never were below the yellow line, which is what I thought the rule book stated," Hudson explained. "This is devastating to our team because we are the little guys trying to make things happen against teams with bigger resources. We don't have the big bucks as we're here fighting to get that. It was a quick decision but I thought I was making the right choice to avoid contact and causing a huge wreck like what happened behind me! I didn't want to plow into them because they were virtually stopping. I just don't know what to say. It hurts. We had a great racecar. It drafted well and we were right where we wanted to be. It's going to take a while for this pain to go away. It's Daytona for crying out loud.
Aside from what happen, I want to thank everyone who jumped on board and made this race possible. I also have to thank the team for the countless amount of hours they've poured into making my second trip to Daytona possible. One day, things will go our way."
In addition to Hudson Performance Drivelines, D-N-J Auto Parts, Double H Hydraulics, Fischer's Keystop Trucking & Towing, G&A Trucking, Gene Patient Fabrication (GPF), Miles Racing Fuel and Warricktubing.com served as associate marketing partners in Saturday's season-opener.
For more on "Hope for Harlie", please click here to visit their official Facebook page.
Next up for the ARCA Racing Series presented by Menards will be the first of two stops in the state of Alabama with the sanctions first ever visit to Mobile (Ala.) International Speedway for the running of the Mobile ARCA 200 on Saturday, March 10.
In 27 ARCA Racing Series presented by Menards starts, Hudson has produced three top-fives including a career best of fourth at Salem (Ind.) Speedway in 2007 and Talladega (Ala.) Superspeedway (April 2011) and 13 top-10 finishes overall. Hudson has one career ARCA pole also coming at Salem (Ind.) Speedway in 2005 driving the No. 62 Hudson Machine Shop Chevrolet Monte Carlo.
###
CONTACT:
NAME: Chris Knight (@Knighter01)
PHONE: 704.775.2273
EMAIL: chris@chrisknightpr.com
Connect with The Crittenden Automotive Library