Brett Hudson Looking For Redemption At Daytona
Brett Hudson Looking For Redemption At Daytona
Chris Knight
Knight Motorsports Management
Brett Hudson Motorsports
February 14, 2012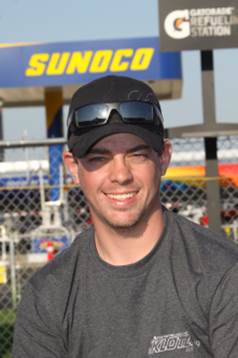 Brett Hudson, driver of the No. 0 Hudson Performance Drivelines Dodge Charger in the ARCA Racing Series presented by Menards for Brett Hudson Motorsports (BHM).
DAYTONA BEACH, Florida (February 14, 2012)
- - Brett Hudson's Daytona (Fla.) International Speedway debut last February was literally over before it really ever took off. This year, the Owensboro, Kentucky native is heading back to the "World Center of Racing" eyeing redemption in the 2012 ARCA Racing Series presented by Menards season-opener, the Lucas Oil Slick Mist 200.
Description: IMG_1637Last year, Hudson qualified 21st and quickly drafted his way into the top-20 but by lap four the left rear tire deflated on his Dodge Charger which sent his machine into an unconformable spin and making contact with the wall which ultimately ended his day.
Dejected by the misfortune, the Brett Hudson Motorsports (BHM) team repaired their racecar and headed to the next venue on the circuit, the 2.66-mile superspeedway at Talladega (Ala.) Superspeedway where the 24-year old qualified 18th and crafted brilliantly to a fourth place finish.
Now, Daytona is among the family-owned team with the same crew and another opportunity to take on the 2.5-mile superspeedway is quickly on the horizon and they're looking to make the most out of it.
"Everyone, one way or another gets a second chance and this is ours," said Hudson about returning to Daytona International Speedway. "The emotions we had last year when we made the field were those of relief and excitement. Within four laps of the race; our week was turned upside down and no sense of direction. But, we pulled it together as a team and we're back and ready to recover."
Hudson, the Kentuckian whose gained attention over the years for his strong-short track presence has proven that the little guys can become contenders, especially after bouncing back at Talladega last April.
"You know, I think one of the main reasons we worked so hard to get back to Daytona was to prove to everyone that Talladega wasn't a fluke. We did it with the help of the draft and working with others. The finish wasn't just handed to us because of the "big one" or something, we earned it. We know we're capable of duplicating or bettering our performance on Saturday afternoon and that's exactly what we're focusing on."
Of course, a lot of elements go into making a superspeedway program successful. A good car, a powerful motor, an experienced crew chief and flawless crew all fold into place perfectly which yields results on the track.
"Without hesitation, I feel like I have one of the craftiest crew chiefs on the tour in John Hayden. He's a driver who has a niche for these types of tracks and I'm just lucky to have his knowledge and wisdom on my side again.
Together, we'll get our No.09 Hudson Performance Drivelines Dodge Charger performing to our standards and then look to just make our right move in the race. It's not a short race; but it isn't exactly a long-one either, so orchestrating and executing our approach will be pivotal."
Again, this year the Hudson Motorsports team will bring awareness to a big fan of theirs, Harlie Bryant. Last year, the fellow Kentuckian was diagnosed with brain cancer and continues to fight her battle. The team will continue to spread her message of "hope and love."
"Harlie's a real trooper," sounded Hudson. "She is one courageous little girl. She won't be able to attend Daytona with us, but she will be with us in spirit and watching the race on television. Hopefully, we can have a good run for her and everyone at BHM."
Another presence will be missed floating around the BHM garage area this year. Steve Ash, a longtime member of the organization underwent a medical procedure last fall that prohibits him from being at the racetrack. Still, Ash will work the team in a satellite role as race strategist from his home in Kentucky.
In addition to Hudson Performance Drivelines, D-N-J Auto Parts, Double H Hydraulics, Fischer's Keystop Trucking & Towing, G&A Trucking, Gene Patient Fabrication (GPF), Miles Racing Fuel and Warricktubing.com join the team as associate marketing partners in Saturday's season-opener.
Additional sponsorship opportunities are still available for this weekend's activities. Interested parties are encouraged to contact Lisa Hudson of Brett Hudson Motorsports at 270.929.2160 or hudson00@adelphia.net.
For more on "Hope for Harlie", please click here to visit their official Facebook page.
In 26 ARCA Racing Series presented by Menards starts, Hudson has produced three top-fives including a career best of fourth at Salem (Ind.) Speedway in 2007 and Talladega (Ala.) Superspeedway (April 2011) and 13 top-10 finishes overall. Hudson has one career ARCA pole also coming at Salem (Ind.) Speedway in 2005 driving the No. 62 Hudson Machine Shop Chevrolet Monte Carlo.
The Lucas Oil Slick Mist 200 at Daytona (80 laps / 200 miles) is the first of 20 events on the 2012 ARCA Racing Series presented by Menards schedule. The 49th ARCA race held at Daytona is a three-day show. Practice begins Thursday, February 16 with a four hour practice session planned from 1:00 p.m. - 5:00 p.m. Menards pole qualifying presented by Ansell is set for Friday, February 17 slated to begin at 2:00 p.m. A forty-five minute final practice session is etched in on Saturday, February 18th from 10:00 a.m. - 10:45 a.m. The event will take the green flag later that day shortly after 4:30 p.m. The race will be televised live on SPEED with additional race coverage including live timing and scoring and radio broadcast through the ARCA Racing Network (ARN) online at arcaracing.com. All times are local. ARCA, celebrating its 60th season in 2012 is the preamble for the highly anticipated Budweiser Shootout for the NASCAR Sprint Cup Series (NSCS) set to ignite under the lights later that night.
###
CONTACT:
NAME: Chris Knight (@Knighter01)
PHONE: 704.775.2273
EMAIL: chris@chrisknightpr.com
Connect with The Crittenden Automotive Library