2013 Ford Flex SE
Opinions expressed by Bill Crittenden are not official policies or positions of The Crittenden Automotive Library. You can read more about the Library's goals, mission, policies, and operations on the About Us page.
Topics: Ford Flex
2013 Ford Flex SE
Bill Crittenden
March 27, 2015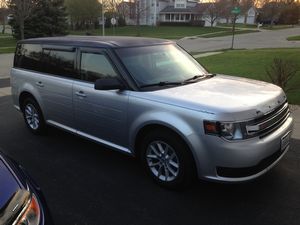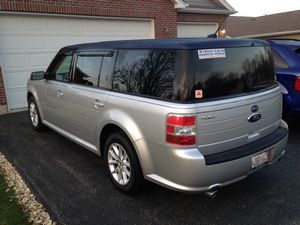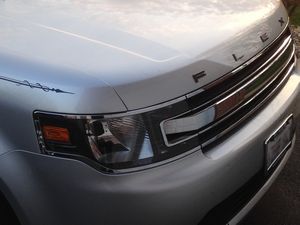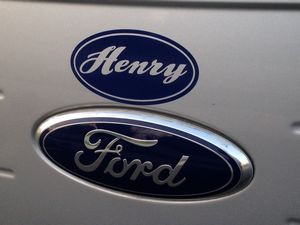 "Henry," the Ford Flex SE I tested, with custom pinstriping and blue roof.
Since its introduction at the 2005 Chicago Auto Show in concept form as the Ford Fairlane, and in production form in 2007 at the NYIAS, as the Ford Flex has occupied a class by itself.
It's based on a really simple idea. While other vehicles lose interior space to curving body styles and sloping rooflines, the Flex takes the Ford D4 platform upon which the Taurus and Explorer are based, and pushes the body to the absolute limits of height, width, and length available.
The result is a boxy style that, luckily for Ford, comes off more as urban cool than boring utility vehicle. Which is fortunate, because with the third row seats installed the Flex doesn't make a great utility vehicle. It's certainly no cargo van, holding much less than the Chevrolet Uplander it replaced in the family garage.
It's similar in scale and concept to a minivan, but not quite as tall and without the sliding doors it manages to have almost all of the functionality of a minivan but none of the social baggage.
So what is this thing? Simply put, as best as I can describe it, the Flex is the best damned road trip vehicle on the market today. Possibly the best road trip car ever made.
The high roofline allows my oddly proportioned, mostly-torso frame to sit upright with enough room to spare that I could wear a cowboy hat while driving. If I still had one.
None of this cavernous head space is lost in the rear to a sloping roofline, because the roof is flat all the way to the back end. (by comparison, I got physically stuck in the back seat of a comparably priced Hyundai Azera...I had to slide across the back seat and exit feet first)
As mentioned before, it's not quite as tall as a minivan, but in the Flex you don't sit up as high as you do in a van, so you've still got all of the headroom in something that doesn't look very vanlike on the outside.
The back seats are probably the biggest I've ever been in. Actual real full-size adults can ride back there comfortably. Despite the wagon rear end, a black Flex would make an outstanding airport limousine.
I drove the 3.5L Duratec 262 horsepower front wheel drive version. It's got some bulk to haul, so this isn't going to win any stoplight-to-stoplight contests. But it's plenty for getting up to cruising speed. The all wheel drive version upgrades the engine to a 355 horsepower EcoBoost, which should more than compensate for the additional weight.
The only really odd feature of the car was the turn signal stalk and the windshield wiper controls on it. There's no simple way to get one quick swipe of the wipers, you have to turn them on and off again.
The turn signal stalk has two settings. A light touch makes it blink the turn signals three times for a quick lane change without having to manually reset the stalk since you didn't turn the wheel far enough to reset it mechanically. But then when you pull it far enough to make a full turn the stalk returns to center as soon as you let go, but the signal stays on until the turn is made as any normal turn signal would. It just feels weird as hell, it's a bit distracting at first, and takes some getting used to. Maybe it will turn out to be a better system and adopted on all cars by the next generation, but for now it's going to feel unnatural the first time you drive a car so equipped.
Beyond that, my only other little quibble with the car is with the dashboard software, which appears to show an Explorer as the vehicle icon. C'mon, Ford, you built this whole dang vehicle and you couldn't draw an icon of it?
Beyond those little oddities, it really does offer an enormous volume of comfortable passenger space. Put the third row of seats down, and it will easily handle enough baggage for any family of four in the front and middle seats.
Have you ever had to have the shortest person sit behind the taller person in the front seat because they will have more room to put their seat back before hitting the knees of the rear passenger? Thats never a problem in the Flex our family drives.
It's a fabulously comfortable highway cruiser. The seats have great support that don't limit drive times due to discomfort from poor circulation or achy muscles. The lower-than-a-minivan body gives it great stability and better handling than minivans.
Similar to a minivan, it's a modern unibody chassis with a transverse mount V6, so it can take a trailer hitch but won't tow as much as a full size body-on-frame V8 SUV, so if you've got a small yacht to take on your road trip, you still will need a Suburban.
I keep comparing it to a minivan because that's the closest thing the current has in terms of space, features, and power. But what it really is is the return of the epic American station wagon. That's why it's alone in its class, no one else has attempted such a vehicle recently beyond the failed Chrysler Pacifica. Even the Flex, as good as it is, still is a sales failure by Ford's standards (they hoped for 100,000 sales per year but have only sold 192,828 across seven model years). So I don't expect other companies to jump into the segment anytime soon.
Which is a pity. The Flex is a big American cruising wagon perfect for loading up the family and exploring the country by highway. I've spent some time in a Chevrolet Caprice Estate of later years, and the first car I can ever remember was my mom's 1978 Oldsmobile Delta 88 wagon. Thanks to modern technology this is so much better than those wagons. Not just because of Bluetooth and backup cameras and digital toys that hadn't been invented yet, but because of the headroom and how Ford turned the usefulness of a big high, flat roof into a styling asset rather than a liability.
If it's going to be alone in its class, at least Ford is doing it extraordinarily well.
The Flex is just the sort of vehicle that makes you want to buy steel wheels with chrome hubcaps for it and get a paper map of the interstate and pack up the kids for a week away from home. It's truly too bad they didn't keep the Fairlane name from the concept.
Connect with The Crittenden Automotive Library