BYD JOINS LATIN AMERICAN MAYORS TO LEAD CLIMATE CHANGE MITIGATION
BYD JOINS LATIN AMERICAN MAYORS TO LEAD CLIMATE CHANGE MITIGATION
BYD
April 3, 2015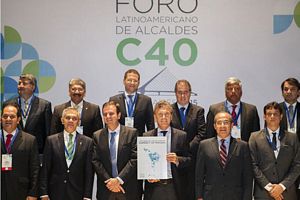 C40 mayors after signature of the Declaration of the Compact Mayors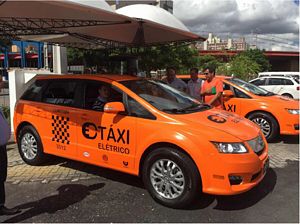 BYD e6 zero emission pure electric taxi in Curitiba
Global green tech giant BYD Co. Ltd. joined over 20 Latin American Mayors at the C40 Latin American Mayors Forum – held in Buenos Aires, Argentina, on March 27, 2015 – to take the lead in climate change mitigation. Mayors of Buenos Aires and Mexico City, Mauricio Macri and Miguel Ángel Mancera, along with former President of Mexico Felipe Calderón, joined Mayor of Rio de Janeiro and C40's Chair Eduardo Paes, to announce and sign two important documents: the Declaration on the Compact of Mayors and the C40 City Clean Bus Declaration of Intent.
Both documents share the goal of delivering climate friendly solutions by reducing greenhouse gas (GHG) emissions. "By taking these decisive steps here today, Latin American Cities are leading the way towards reducing climate risks and greenhouse gas emissions, while improving health, well-being and economic opportunities for urban citizens", said Mayor Eduardo Paes. During the Forum, Mayor of Curitiba Gustavo Fruet made a presentation to showcase Curitiba's leadership in sustainability and clean transportation. During his speech, he presented pictures of the BYD e6 taxi, which has been running in Curitiba since the beginning of March this year. Along with the taxi, pictures of the BYD pure electric bus also drew the audience's attention and acclaim.
With its state-of-the-art Electrified Public Transportation Solutions already in successful operation in more than100 urban centers worldwide – in South America, BYD's electric buses and taxis are in operation in major cities like Bogotá, Montevideo, Santiago, Curitiba and São Paulo – the company proves it is fully equipped to enable Mayors to achieve their sustainability goals of decarbonizing urban mass transportation. "For many years BYD has been leading worldwide efforts to electrify public transportation and reduce greenhouse gas emissions. Taking part in such historical moment is very gratifying, especially seeing Latin America as the first to join efforts in a continental scale. The cities of Bogotá and Curitiba were pioneers in implementing Bus Rapid Transit (BRT) solutions, which are now moving on to most Latin American Cities," said Fred Ni, vice president of BYD America. Adalberto Maluf, BYD's Director of Government Relations stated: "As global pioneers – with our electric buses already a reality in cities like Hong Kong, London and Los Angeles – it is especially encouraging for us to see Latin American Cities making bold commitments to reduce emissions of pollutants and greenhouse gas through electrified public transportation. We are excited to see the commitment of these cities – like Campinas, Salvador and Rio de Janeiro in Brazil, along with Cali in Colombia, Asuncion in Paraguay and Buenos Aires in Argentina – to improve their citizens' quality of life by reducing the emissions resulting from their public services."
About C40 Cities Climate Leadership Group (C40)
The C40 Cities Climate Leadership Group (C40) is a network of large and engaged cities from around the workds committed to implementing meaningful and sustainable climate-related actions locally that will help address climate change globally. C40 was established in 2005 and expanded via a partnership in 2006 with President William J Clinton's Climate Initiative (CCI). The current chair of C40 is Rio de Janeiro Mayor Eduardo Paes; the 108th Mayor of New York City Michael R. Bloomberg serves as President of the Board. To learn more about the work of C40 and our cities, please visit: http://www.c40.org/, follow us on Twitter: @c40cities and like us on Facebook at facebook.com/c40cities.
About BYD
BYD Company Ltd. is one of China's largest companies and has successfully expanded globally. Specializing in battery technologies, their green mission to "solve the whole problem" has made them industry pioneers and leaders in several High-tech sectors including High-efficiency Automobiles, Electrified Public Transportation, Environmentally-Friendly Energy Storage, Affordable Solar Power and Information Technology and Original Design Manufacturing (ODM) services.
As the world's largest manufacturer of rechargeable batteries, their mission to create safer and more environmentally friendly battery technologies has led to the development of the BYD Iron Phosphate (or "Fe") Battery. This fire-safe, completely recyclable and incredibly long-cycle technology has become the core of their clean energy platform that has expanded into automobiles, buses, trucks, utility vehicles and energy storage facilities. BYD and all of their shareholders, including the great American Investor Warren Buffett, see these environmentally and economically forward products as the way of the future.
BYD has made a strong entrance to the North, Central and South American markets with their battery electric buses, and lineup of automobiles. Their mission lies not just in sales growth, but also in sociological integration and local job creation as they have poured incredible investments into developing offices, dealerships and manufacturing facilities in the local communities they now call home, truly a first for Chinese companies. For more information, please visit www.byd.com
Connect with The Crittenden Automotive Library