FOR IMMEDIATE RELEASE:
PSCA Returns to Fontana This Weekend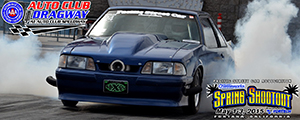 Contact:
Brandon W. Mudd
BWMudd@gmail.com
636-219-9676
FONTANA, Calif. –
Mother Nature prevented the Pacific Street Car Association from kicking off its season at Fontana, but it's returning to the Auto Club Dragway Friday-Sunday for the PSCA/Chassisworks Spring Shootout Presented by Vortech Super Chargers.
In addition to the regular PSCA program, the sanction is going to make it profitable for the racers with incentives such as double championship points and 2 for 1 class entry. When teams combine those two offers with the $1,000 Double Up bonus for winning in two classes and that means drivers leave the track with a trophy and extra cash. Drivers will just buy two NHRA tech cards at the Fontana ticket booth and take them to the PSCA sign-up trailer and officials will offer two classes for the price of one.
Also, the PSCA and Modular Mustang Racing are teaming up to save new racers some green at the remaining three events, including this weekend's race. It's simple; teams just purchase an NHRA tech card at the ticket booth after arriving at a PSCA race, then head to the PSCA trailer after parking. Then the driver chooses the appropriate class for their race vehicle and MMR will pick up the class fee.
"We're excited to be back in Fontana and especially excited to put these programs together that gives our racers the ability race for bonus cash," said PSCA President Mel Roth. "We kicked the year off big in Las Vegas and we're going to carry that momentum into Southern California."
PSCA is also hosting the 2014 Champions' Banquet Saturday at the track following the day's activities. For all the details, visit PSCARacing.com or our official page on Facebook at Facebook.com/PSCARacing.
Want to represent the best grassroots drag racing in the nation? No worries! Get that an all your PSCA merchandise at our online store by clicking
HERE
.
-HSM-
About the Pacific Street Car Association:
In its 16th season, the Pacific Street Car Association, based in Las Vegas, has been a staple of West Coast drag racing since its inception. With six heads-up classes, four bracket classes, and two index classes, the PSCA provides some of the best racing in the country for both fans and racers. The PSCA season is capped off by its Street Car Super Nationals at The Strip at Las Vegas Motor Speedway, now in its 11th year.
About HighSide Media:
Founded in 2007, HighSide Media has represented some of the top drivers, teams, facilities, sponsors, and sanctions in American motorsports. HighSide Media provides public and media relations for racers at every level with tailor-made programs for every budget. Pass YOUR Competition on the HighSide.