Jeep to Keep Cherokee's "Controversial" Styling
Opinions expressed by Bill Crittenden are not official policies or positions of The Crittenden Automotive Library. You can read more about the Library's goals, mission, policies, and operations on the About Us page. Topics: Jeep Cherokee
Jeep to Keep Cherokee's "Controversial" Styling
Bill Crittenden
July 9, 2015

Jeep will keep a style some call "controversial." Here's why controversial styling works.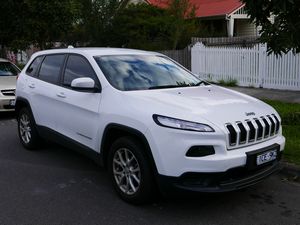 Public domain photo by "OSX"
Jeep exec Mike Manly (could there be a better name for the guy who runs Jeep?) told Automotive News earlier this week: "I think the overall styling, the overall shape, the overall accommodation of that vehicle is spot on. I don't think that there's anything that dramatically needs to change with that vehicle going forward."
It's a style some call "
controversial
" but what's meant is that it has a "love-it-or-hate-it" design.
And that's exactly what a lot of manufacturers need to sell vehicles these days.
Unless you're Honda or Toyota selling to the spreadsheets and Consumer Reports crowd, you need to get people excited about your product to get them in the showrooms. Blanding down a car until nobody hates it usually means that nobody loves it, either. People aren't going to drop $35,000 on "meh."
You need to evoke an emotional response, even if that means a lot of potential buyers have an "oh HELL no!" response. If Jeep watered down the styling so that the Cherokee was indistinguishable from the rest of the market, it would be one of a crowded field, including vehicles from Toyota, Honda, Nissan, Ford, Chevrolet, Dodge, Kia, Hyundai, Mazda, Volkswagen, Subaru, and Buick to choose from. How many buyers do you expect to choose Jeep if they're going on CR reviews, warranty terms, recalls, and fuel economy ratings?
Instead, Jeep created a vehicle that gets enough "shut up and take my money!" responses to make it a success despite all the negativity. The Cherokee is now #21 in June vehicle sales in the U.S. and #1 on a lot of shopping lists they otherwise wouldn't otherwise be on, even if they suffer the scorn of a majority of automotive writers.
The current Cherokee found the sweet spot between bland and
too
unconventional, staying within the boundaries of taste that the Isuzu Vehicross and Pontiac Aztek missed. 2014 was the first full sales year for the Cherokee, and it sold 178,508 in the U.S., far better than the 75,483 Jeep Liberty sales in 2012.
The Liberty, with an unmistakably Jeep grille but otherwise a fairly conventional compact SUV, never sold more than 171,212 per year. That was in its first full sales year as well (2002), but in a far less crowded field than the one in which the current Cherokee contends.
While last year the Cherokee just barely edged ahead of the Liberty's best selling year, it's on pace this year to beat the 2014 sales figure by a significant amount, with 105,426 sales through the end of June 2015 vs. 80,432 through the end of June 2014. The Liberty's second full year saw a sales drop and it averaged just above 160,000 through five full years until a redesign. That style was unpopular, as the new version it would never top 92,105 a year, bottoming out with 43,503 sales in 2009.
I personally can't recall my wife ever having a Jeep on her shopping list before the new Cherokee, a design she says looks "mean," but in a good way. Despite the Ford Escape and Hyundai Tucson being of better overall value and quality, she doesn't talk about either of those much anymore, not since the Cherokee came out.
Jeep absolutely nailed it with the Cherokee's styling, because enough people love it enough to buy it despite its many detractors. They'd be foolish to water it down to placate a few commentators when they've found so many willing buyers.
Connect with The Crittenden Automotive Library