FOR IMMEDIATE RELEASE:
PSCA's Rocky Mountain Summer Series Kicks Off Race No. 2 This Weekend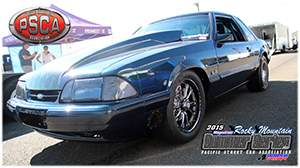 Contact:
Brandon W. Mudd
PR@HighSideMedia.net
636-219-9676
DENVER –
The Pacific Street Car Association launches its second of three MagnaFuel Rocky Mountain Summer Series races this weekend at the legendary Bandimere Speedway near Denver. The annual trek to the Rockies runs through
Friday
and
Saturday
, featuring some of the best heads-up 1/8th mile racing in the country.
The series is sponsored by Finish Line Automotive Performance, a Denver-based company in which owner Greg Zerban isn't just the owner of the company, he's a racer in the series as well, competing in the Reaction Performance 235 Limited class. Co-owner Jonny Santanni is also a top contender in the MagnaFuel XDR class.
"Many of the Rocky Mountain Summer Series racers support the shop," Zerban said. "They use the DynoJet 224/XLC Chassis Dyno, purchase VP Racing Fuel and refill their nitrous bottles. We're proud to be a major part of this exciting racing series."
PSCA President Mel Roth said he has seen a continued rise in attendance at the events, both with fans and racers. "We absolutely love racing here. The fans really appreciate our racers and vice versa. Our merchandise flies off the racks and we plan to race here at Thunder Mountain for many years to come."
For more information on this weekend's race, visit the official page on Facebook at Facebook.com/PSCARockyMountainSummerSeries.
Need to represent the PSCA at your local track? Head to the PSCA shop, where the buy 3, you get one free Internet Special is now extended through
July 31st
!
For more on the Pacific Street Car Association, visit them on the Web at PSCARacing.com or at their social media platforms at Facebook.com/PSCARacing and on Twitter at @PSCARacing.
-HSM-
About the Pacific Street Car Association:
In its 16th season, the Pacific Street Car Association, based in Las Vegas, has been a staple of West Coast drag racing since its inception. With six heads-up classes, four bracket classes, and two index classes, the PSCA provides some of the best racing in the country for both fans and racers. The PSCA season is capped off by its Street Car Super Nationals at The Strip at Las Vegas Motor Speedway, now in its 11th year.
About HighSide Media:
Founded in 2007, HighSide Media has represented some of the top drivers, teams, facilities, sponsors, and sanctions in American motorsports. HighSide Media provides public and media relations for racers at every level with tailor-made programs for every budget. Pass YOUR Competition on the HighSide.