Fiat Blew It
Opinions expressed by Bill Crittenden are not official policies or positions of The Crittenden Automotive Library. You can read more about the Library's goals, mission, policies, and operations on the About Us page. Topics: Fiat Chrysler Automobiles, Fiat
Fiat Blew It
Bill Crittenden
July 30, 2015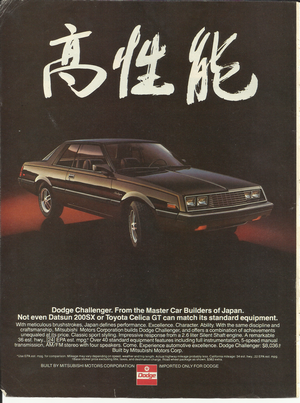 Second-generation Dodge Challenger "Master Car Builders of Japan" advertisement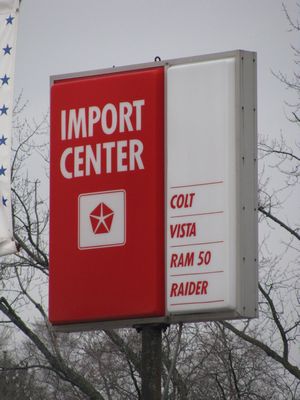 Dodge dealership "Import Center" sign
Last week Fiat Chrysler Automobiles, the merged parent company of Fiat and Chrysler, was hit with a $105 million penalty from NHTSA for not fulfilling recall obligations. Part of the consent order is a buyback program for thousands of Ram pickups.
This came a month after Fiat CEO Sergio Marchionne was caught merger shopping with GM. I'm wondering if another divorce may be on the way for the Newt Gingrich of the automobile industry.
When the merger was announced, there was some excitement because a lot of people could see the obvious advantages of the pairing. Chrysler was strong in classically styled "muscle cars," full-size American pickup trucks, minivans, and Jeeps, but weak in small cars.
Fiat didn't make muscle cars or full-size pickups, but they have a solid lineup of small cars. The two complemented each other
perfectly
. Where the merger goes off the rails is in FCA's determination to keep the Italian and American brands as far apart as possible.
Personally, I think it's pretty damn cool that Dodge used a Fiat platform for the new Dart. It looks like a great compact car, but it suffers from a reputation of being a dressed-up Neon. With potential buyers wrongly seeing it as a lipstick-on-an-outdated-pig of a car, it's been a less than stellar seller. Perhaps Dodge could have avoided this by taking a lesson from their own past.
There used to be a time when Chrysler proudly showed off its small cars' foreign roots as a sales tactic. These were years when import cars had a better reputation than domestic. You could go to your Dodge dealer's "Import Center" and buy any number of Mitsubishi-manufactured small cars and trucks labeled as Dodge.
Chrysler also pulled off a really well done dealership consolidation in the financial crisis that started in 2008. They moved all of their brands under one roof in each market, and by removing cross-town competition between dealerships selling different Chrysler brands in the same town, they could introduce new marques without needing a full line and signing on new dealerships. Counter to Ford's axing Mercury and GM losing Pontiac and Saturn, Chrysler has actually
gained
marque, spinning off Ram and SRT as separate brands for marketing purposes.
These new all-in-one Chrysler Group dealerships should have been an easy way to propagate Fiat 500's across this land, but someone at FCA corporate seems to have decided that the oh-so-fashionable Italian mini car just couldn't be seen in old brick buildings next to big dirty ugly Ram trucks.
I had hoped when the merger was announced that I'd be able to buy an Alfa Romeo MiTo in my small town by now, but FCA is taking the long, hard, and utterly unnecessary road of building a separate dealership network from scratch to sell Fiats and Alfas. If I wanted a 500, I'd have to drive an hour and fifteen minutes and pass there Dodge dealerships to get it and service it.
Instead of insisting on keeping the Italian and American brands as separate as possible, they could have brought the volume brands together under one roof, with established and well-staffed dealerships selling a full line of vehicles assembled together from Dodge, Chrysler, Ram, Fiat, and Alfa Romeo.
Of course you'd keep Ferrari and Maserati at their own separate dealerships, but FCA still could have been open and proud of the technology sharing that's going on now that Dodge is part of the company responsible for crafting those impressive automobiles. Maybe an ad showing a Ferrari with the Dart and some line about "Italian soul, American attitude" would have sold a helluva lot more Darts than they've been able to so far.
Aside from the details of the Dart, this was all quite obvious to anyone I talked to at the time of the merger and we were all excitedly looking forward to the possibilities. So how did the "experts" who sell cars for a living blow it so badly?
Connect with The Crittenden Automotive Library